NOW MAGAZINE -- BABY PICS
November 8: Wonderful Karen scanned and emailed me the NOW Magazine article
featuring pics of Kate, Jim and Mia leaving the hospital.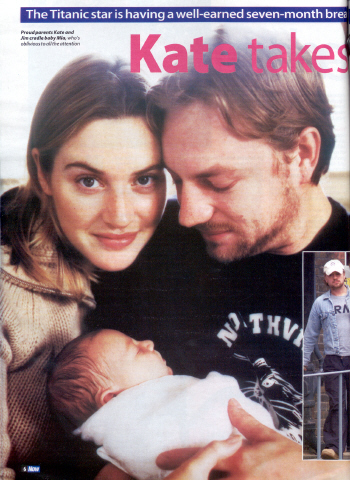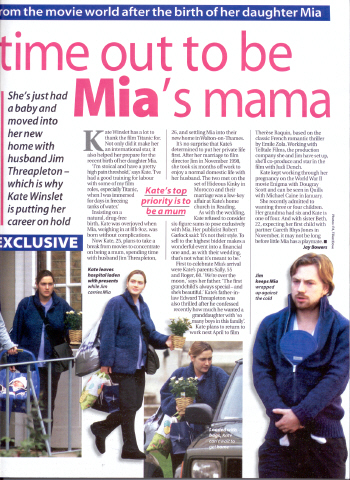 I have transcribed the text of the article:

"Kate Takes Time Out To Be Mia's Mama"
The Titanic star is having a well-earned seven-month break from the movie world after the birth of her daughter Mia. She's just had a baby and moved into new home with husband Jim Threapleton - which is why Kate Winslet is putting her career on hold.
Kate Winslet has a lot to thank the film Titanic for: Not only did it make her an international star, it also helped her prepare for the recent birth of her daughter Mia.
"I'm stoical and have a pretty high pain threshold," says Kate. "I've had a good training for labour with some of my film roles, especially Titanic, when I was immersed for days in freezing tanks of water."
Insisting on a natural, drug-free birth, Kate was overjoyed when Mia, weighing in at 8 lbs., 9 oz., was born without complications.
Now Kate, 25, plans to take a break from movies to concentrate on being a mum, spending time with husband Jim Threapleton, 26, and settling Mia in their new home in Walton-on-Thames.
It's no surprise that Kate's determined to put her private life first. After her marriage to film director Jim in November 1998, she took six months off work to enjoy a normal domestic life with her husband. The two met on the set of Hideous Kinky in Morocco and their marriage was a low-key affair at Kate's home church in Reading.
As with the wedding, Kate refused to consider six-figure sums to pose exclusively with Mia. Her publicist Robert Garlock said: "It's not their style. To sell to the highest bidder turns a wonderful event into a financial one, and, as with their wedding, that's not what it's meant to be."
First to celebrate Mia's arrival were Kate's parents, Sally, 55 and Roger, 60. "We're over the moon," says her father. "The first grandchild is always special - and she's beautiful." Kate's father-in-law Edward Threapleton was also thrilled after he confessed recently how much he wanted a granddaughter with "so many boys in the family."
Kate's plans to return to work next April to film Therese Raquin, based on the classic French romantic thriller by Emile Zola. Working with Telltale Films, the production company she and Jim have set up, she'll co-produce and star in the film with Judi Dench.
Kate kept working through her pregnancy on the World War II movie Enigma with Dougray Scott and can be seen in Quills with Michael Caine in January.
She recently admitted to wanting three or four children. Her grandma had six and Kate is one of four. And with sister Beth, 22, expecting her first child in November, it may not be long before little Mia has a playmate.