This page was created September 26, 2000
Quills was selected to play at the closing night ceremonies
of the American Film Institute's "Fest 2000"!
(I scanned a portion of one of my tickets)
October 26: I was fortunate to be able to attend the premiere of Quills this evening!
My thoughts about the film and details about the event are posted farther down the page.
Partial scan of the poster. It's nice that Kate is featured!
From the AFI site:

Filmmaker Tribute - Egyptian Theatre - Wed, Oct. 25 --
A special tribute to director Philip Kaufman (Henry & June, The Right Stuff, The Unbearable Lightness of Being), with a Q&A moderated by Stephen Farber.

Awards Ceremony & Closing Night Gala - Egyptian Theatre - Thu, Oct. 26 --
A festive ending to the week-long events. Awards will be followed by the premiere of QUILLS directed by Philip Kaufman and gala reception.





From Yahoo! News / Reuters, September 26:

HOLLYWOOD (Variety) - Joel and Ethan Coen's ''O Brother, Where Art Thou?'' will kick off this year's American Film Institute Festival, to be held Oct. 19-26. A tribute to filmmaker Philip Kaufman (''The Unbearable Lightness of Being'') and the L.A. premiere of his period picture ''Quills,'' which stars Kate Winslet, Geoffrey Rush, Joaquin Phoenix and Michael Caine, will cap the fest, the AFI announced Monday.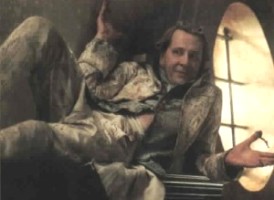 From Variety, September 26:

"AFI FESTIVAL LOCKS COEN, KAUFMAN PIX - 'Brother,' 'Quills' bookend event," by Jill Feiwell --
Joel and Ethan Coen's "O Brother, Where Art Thou?" will kick off this year's American Film Institute Festival, to be held Oct. 19-26. A tribute to filmmaker Philip Kaufman and the L.A. preem of his period pic "Quills," which stars Kate Winslet, Geoffrey Rush, Joaquin Phoenix and Michael Caine, will cap the fest, the AFI announced Monday. "The Coen brothers and Philip Kaufman are artistic visionaries whose highly anticipated films will serve as bookends to the festival," said Christian Gaines, the AFI's new festival director.
The tribute to Kaufman, skedded for Oct. 25, will be moderated by film critic Stephen Farber. In addition, fest will highlight a selection of Kaufman's work, including "Invasion of the Body Snatchers," "The Right Stuff" and "The Unbearable Lightness of Being." Closing night will feature the awards ceremony and the screening of "Quills."
Festival will unspool primarily at Hollywood's Egyptian Theater, with additional screenings at the El Capitan and Vogue theaters. "Quills," distributed by Fox Searchlight, bows Nov. 22 in limited release and will expand nationwide Dec. 8; Buena Vista's "O Brother, Where Art Thou?" will see limited release Dec. 22 and expand Jan. 12.
AFI will announce the full fest lineup Oct. 5. For information, call (323) 520-2000.



From the AFI site:


AFI Fest is the largest and most prestigious international film festival in Los Angeles. It combines film programming with special events, capturing the cultural diversity of Los Angeles while providing new and established filmmakers with an avenue of exposure to the film community.

"A great festival for film professionals and the Los Angeles community to discover new talent from around the world." -- LA Times

"Los Angeles was once a mecca for foreign film. Thanks to AFI Fest, it's coming back. This event has clearly established itself as a key player on the international festival circuit." -- Steven Gaydos, Variety
October 7: The festival program has been published and posted on the official site.

Quills:

Academy Award winner Geoffrey Rush stars as the notorious Marquis de Sade whose blasphemous writings are encouraged by a God fearing priest, Abbe de Coulmier (Joaquin Phoenix), who believes in curing the insane through his humanistic principles. As Coulmier urges him to write, "to purge his evil thoughts upon the page," an adoring chamber maid, Madeleine LeClerc (two time Academy Award nominee Kate Winslet) abets the Marquis' cause and smuggles the scandalous writings out of the asylum for publication. Both risk everything for the Marquis, until a new doctor (Academy Award winner Michael Caine) arrives at Charenton hell-bent on "curing" the Marquis of his nasty writing habit by any means necessary.




October 20: Jeffrey Wells mentioned the AFI "Fest 2000" in his "Hollywood Confidential" column today:
A good festival, this. Good for raising or goading the industry's consciousness about the issues. Good for the cultural life of Los Angeles. Good for those filmmakers whose films have been chosen to screen. The AFI Film Festival will probably never be in the calibre of Sundance, Toronto, Cannes, Berlin or Venice … but it matters, I think.





The venue for the gala -- The Egyptian Theater, 6712 Hollywood Blvd., Hollywood



A landmark Hollywood movie theater where Sid Grauman staged the first Hollywood premiere has made a Hollywood-style comeback.

The Egyptian Theater opened in 1922 and was operated by Sid Grauman, who later built the world famous "Graman's Chinese" across the street. Hollywood's first premiere, "Robin Hood", starring Douglas Fairbanks, lit up the movie palace with a multitude of stars, flashing lights and red carpet, which set the stage for every movie premiere held thereafter.

Through the efforts of the American Cinematheque and the Community Redevelopment Agency (CRA), Hollywood's Egyptian Theatre once again rolls out the red carpet and klieg lights as the new home for the Cinematheque, a non-profit film theater showcasing classic films, documentaries, independent film and world cinema.

The 40,000-square-foot theater complex, located at 6712 Hollywood Boulevard, currently consists of an operational 618-seat theater, a 6,700-square-foot tiled courtyard and a 3,080-square-foot retail building.


Titanic costar Gloria Stuart's new 'star' on the Hollywood Walk of Fame is located nearby!

My older son (the "Titaniac") insisted on having his photo taken next to Gloria's star, LOL.




October 26: From Indiewire --
In this week's LA Weekly, Manohla Dargis writes, "Wow! After years of misguided, lackluster programming, the AFI film festival again seems worthy of both its hometown and Los Angeles' movie-crazed citizens. The man to thank is Christian Gaines, the festival's new programmer." On day 5 of the weeklong event, the former director of the Hawaii Independent Film Festival and programmer at Sundance shouted over the noise of a cocktail reception for Intel's two-day digital symposium, "The festival is going extremely well and I'm very pleased. I don't know if it's just because I'm the 'head guy,' but I'm getting a lot of very nice compliments."
Compliments he deserves for an impressive international program largely handpicked from the world's great festivals. Also noteworthy is the event's new home, spanning a couple of blocks, on Hollywood Boulevard east of La Brea. Last year, the festival that has always taken place at venues throughout this sprawling town settled down in Hollywood, with events happening in some of the most glamorous old movie theaters in the historical center of moviedom. Gaines says this move will insure "that in a city like Los Angeles, which isn't traditionally known for having a center or being a walking city, that every single screening and panel and special event and reception was in easy walking distance of each other." Why Hollywood? "We like it," Gaines jokes. "It's close to our office."
According to Gaines, the other main goal was "to concentrate on being an international film festival." The wide-reaching selection of movies from around the world certainly reflects this goal. International highlights have included festival favorites "The Hundred Steps" by Marco Tullio Giordana (Italy), "Harry, He is Here to Help" by Dominik Moll (France), "The Widow of St. Pierre" by Patrice Leconte (France), "Reef Hunters" by Marilou Diaz-Abaya (Philippines), "A Time for Drunken Horses" by Bahman Ghobadi (Iran), and "Suzhou River" by Lou Ye (China). Another stand-out is Leander Haussmann's portrait of a 17-year old in 1970's East Germany, "Sun Alley." The young cast is universally captivating in a film that mocks pre-reunification Germany with equal parts hilarity and poignancy.
In addition to a program that includes European, Latin, documentaries, American independents and new this year, an Asian showcase, along with a retrospective of films by Philip Kaufman who was honored Wednesday night, the festival also offered a two-day Digital Symposium with panelists such as Jannat Gargi (Atom Films), Amy Talkington ("The New Arrival"), and Rachael Shapiro (Reelplay) and a day long screenwriters forum, with panelists like David O. Russell ("Three Kings"), Gavin O'Connor ("Tumbleweeds"), James Mangold ("Girl, Interrupted"), Mark Gill (Miramax), and Eric Roth ("The Insider", "Forrest Gump").
The festival closes tonight (Thursday) with a Gala awards ceremony, with prizes being doled out in the international and documentary competitions, as well as audience awards. Following the ceremony, the festival will screen the premiere of Philip Kaufman's Marquis de Sade story, "Quills," with a reception afterwards at the Egyptian Theater. [Andrea Meyer]


October 27: The AFI "Fest 2000" site had a link to a video interview with director Philip Kaufman. It was taped at the premiere last night. Here's the transcription:
[Host] "Philip Kaufman's latest film is about the Marquis de Sade, entitled 'Quills'".
[Kaufman]: "This is a Fox Searchlight film, so it's done for what would be called a reasonable budget. It's, I would say... You know, it's a period film and so forth, but it was done for about a third of what Shakespeare In Love was made for. And yet we had a lot of the very same people who worked on Shakespeare in Love. So, a lot of the people who won Oscars, composers and so forth. It's just a thrill to shoot over in London where actors and everybody will work for minimal wages just to be involved in a project that they really believe in."
[Host] "The screenplay for Quills was adapted by Doug Wright from his Obie-award winning play. The action takes place deep within the corridors of the Charenton Asylum."


October 27: From Variety --
"AFI Fetes Lonergan -- Helmer-scribe gets cash, trips, Krispy Kreme donuts," by Dana Harris:
The upcoming Paramount Classics release "You Can Count On Me" from writer-director Kenneth Lonergan took two awards for best film and best new writer at the awards ceremony that closed the AFI Fest in Los Angeles Thursday night.
In addition to cash and travel packages, Lonergan's loot included a year's supply of Krispy Kreme donuts.
Also in the New Directions From American Independents section, Rob Morrow received a special jury mention for his direction of "Maze," while the Producer to Watch award went to Richard Miller and Ellen Rigas Venetis for "Songcatcher."
In the international competition, grand jury prize for best feature went to "Blackboards" directed by Iranian filmmaker Samira Makhmalbaf. The Kodak Vision Award in cinematography went to Peter Sova for his work on the U.K. pic "Gangster No. 1."
The Discovery Documentary Competition prize went to Arlene Donnelly's "Naked States," with a special jury mention for "Gaea Girls" directed by Kim Longinotto and Jano Williams.
The Audience Awards went to Alejandro Gonzalez Inarritu's "Amores Perros" ("Love's A Bitch") for feature, "Homeland" from Jilann Spitzmiller and Hank Rogerson for documentary and Oliver Dieckmann's "Ordinary Love" for short.


October 27: I've taken some time to write a description of the Quills premiere last night in Los Angeles, along with my comments about the film:
The setting: A beautiful, but cloudy and crisp evening in the heart of Hollywood.
The players: Filmmakers and fans of the art of filmmaking.
The event: The closing night of the American Film Institute's "Fest 2000", featuring an awards ceremony and the premiere of Quills.




This is the pic used on the poster!

The Egyptian Theatre is located on Hollywood Boulevard, along the "Walk of Fame", and was the site of the closing night ceremonies.

A series of Quills posters (film poster and enlargements of various magazine and newspaper articles about the film) were displayed on easels, lining each side of the center walkway of the courtyard.

There was a buzz of excitement amongst the guests as we gathered in the courtyard and waited for the event to begin!



The Lloyd Rigler theater is a lovely setting in which to view a film - comfortable chairs in a stadium arrangement, high ceilings, and beautifully decorated.

Awards were presented to the outstanding films and filmmakers, and thanks given to all those who had assisted in planning the festival. An intermission followed.
Then, at about 7:45 pm, the director of AFI, Jean Picker Firstenberg, introduced Quills director Philip Kaufman. He discussed the film, saying that he felt it was an important work. The details of the development of the film project were interesting, as were his comments about the long rehearsal period. Phil remarked that he received much valuable input from his very talented actors. He said he hoped we enjoyed the film, and then, the lights dimmed, and Quills began!
Kate's beautiful presence graced the opening sequence, as "Madeleine" walks the corridors of Charenton Asylum, collecting dirty linens. She pauses, looks around to see if anyone is observing her, then approaches the cell of the Marquis de Sade, and informs him that she wants to enter his chamber. She nervously unlocks his door and enters, but doesn't see him. She calls to him, but there is no answer. Madeleine wanders around his room, inspecting various "objects d'art" (some quite explicit in nature). This is something she has clearly wanted to do for some time. She approaches the bed, around which curtains have been drawn. Is he lying there, waiting for her? Just what will he do? She hesitantly pulls apart the curtains. The Marquis is not there, he is standing behind her. She is startled and gasps…
Don't worry - I'm not going to do a scene-by-scene review! (If you would like details about specific scenes, don't hesitate to email me.)
Quills is a story that has a good mix of character types - the innocent, well-intentioned girl who is trying to find escape from her dreary life (Madeleine); a "rescuer" who means well, but is fighting his own personal demons (Abbe); a pompous, self-serving jerk (Dr. Royer-Collard); and an intelligent artist, who will allow others to be hurt for the sake of his "art" (de Sade). The main characters are well developed, their stories are compelling, and the events unfold in a believable fashion. The only character I didn't think was well developed was the doctor's young wife, but that is the only flaw I found in this fascinating study of human behavior.
Director Philip Kaufman does a fantastic job of balancing the many elements in Doug Wright's excellent screenplay: humor, tragedy, issues of freedom of speech and censorship, the impact of new ideas, battling one's weaknesses while trying to do the "right" thing. What is the right thing? The Marquis feels it is continuing to display his art; Madeleine feels it is assisting the Marquis, as she is intrigued and liberated by his work; Abbe de Coulmier feels it is doing everything possible to rehabilitate the inmates; Dr. Royer-Collard feels it is carrying out the orders of Napoleon, making a name for himself in the process.
The production elements are all excellent. Production Designer Martin Childs, Costume Designer Jacqueline West, Cinematographer Rogier Stoffers (and many others) join forces to create the dank, dingy atmosphere of Charenton Asylum and the surrounding area. When the Marquis is stripped of all his clothes and possessions, and left alone naked in his chamber, I felt the cold. When the production team can involve the audience in this way, making them understand and feel a part of the world on the big screen, they've accomplished something wonderful. This allows us to "experience", rather than just "watch" the events unfolding.
All of the actors deliver fine performances. Geoffrey Rush co-created a compelling, fascinating character. While one may not appreciate the work of the Marquis de Sade, we still find him interesting enough to wonder what he'll do next. I do feel that Rush was "over the top" during the scene with his wife that takes place in his chamber. It was sufficiently scary, though, so he did pull it off. His performance could very well be honored with an Oscar nomination. Michael Caine was good at being bad. I understood his "type" from the outset, which is to the credit of Caine's talent. Joaquin Phoenix performed his role of the good priest who is fighting the "flesh" very well. He displayed much emotion in his eyes, and causes the audience to feel empathy for him and his work.
Madeleine is a beautiful, charismatic, intelligent young woman who is trapped in Charenton's dark environment of madness and repression. Her "prison" is symbolized visually by her being seen trapped behind the bars of the fence at Charenton as she passes the pages of de Sade's stories through the fence to a young, handsome man on a horse. She watches him ride away with envy and longing in her eyes. One reviewer stated that Madeleine is the moral center of the film. To me, she is the "main" character, because her actions affect everyone else. For example, her decision to read aloud and smuggle out de Sade's writings is what starts the chain of events: Dr. Royer-Collard being dispatched to the asylum, the Abbe's position and reputation being threatened, the stripping of de Sade's chamber and body, the doctor's young wife being "educated" by de Sade's writings and making a decision that will change her life. Madeleine's attempted seduction of the Abbe and her carelessness in handling the lunatic who is obsessed with her also has dire consequences for several people.
It has been said that Kate is the "glue that holds the film together". I agree with that comment one hundred percent. Kate has a gift for making her characters sympathetic and accessible. We feel for Madeleine's situation at the asylum, and wish she could find a better life. We understand fully when she explains to Abbe that she lives vicariously through the characters of de Sade because her own life is so dreary. This scene, by the way, occurs as Madeleine's wounds from being whipped are treated. She is defeated in one sense, but still displays strength of character. It is a moving scene and successful due to Kate's performance. Humor is then injected in the scene when Abbe comments that if he had known her taste in reading material, he never would have taught her to read!
My favorite scene occurs just after this "confession". (Don't worry - it won't give away the ending!) Madeleine lies awake that night, apparently thinking about the Abbe and his gesture of putting himself in her place to be punished. She had realized then that he cares for her, and she decides to go to his room. He allows her in, then attempts to counsel her about acting on one's desires. This is played with Abbe standing behind Madeleine, so each can't see the other's reactions. Abbe is under the mistaken impression that Madeleine is in love with the Marquis. She corrects him, letting him know that he is the object of her desire. She turns her face toward his and there is a nicely played moment of expressed longing, but hesitation. She then kisses him passionately. He responds at first, then pushes her away. She pleads with him to forgive her; he admits that he loves her. She is hopeful, but then he insists that she leave his room. Madeleine leaves, feeling hurt and humiliated. The next morning, as she is gathering sheets from the clothes line, she finds him hiding behind a sheet, watching her. She says, defiantly, but with tears in her eyes, "Don't come any closer, Abbe, God's watching." It is a fabulous sequence (beginning with the whipping scene) that is beautifully acted by Kate and Joaquin, and is a good example of fine filmmaking.
Kate is given the opportunity with this role to demonstrate a wide range of emotions: intrigue, a wicked sense of humor, fear, passion, remorse, humiliation. Madeleine is intrigued by, and yet fearful of the Marquis. She thoroughly enjoys reading his stories to her mother and coworkers, seeming to delight in shocking them. She loves the Abbe, but is remorseful, then hurt and humiliated by his rejection. Kate says more with her eyes than any other actor I've watched.
What so impresses me about Kate's acting is that she never seems to be "acting". While other actors sometimes seem to be reciting lines, the emotions and expressions Kate display seem to spring from deep within. She is "experiencing", and I am thankful that Kate allows us get inside her character's mind, heart and soul. Her performance in Quills is certainly Oscar-caliber.
The audience was very appreciative of the film. They responded to the humorous scenes and witty dialogue with much laughter, and seemed very moved by the tragedies that occurred. Applause rang out as soon as the credits began to roll. There was more applause at the very end of the credits when the house lights came on. It was wonderful being a part of an audience of "film lovers". As I was leaving the theater, I overheard a woman comment, "Isn't Kate Winslet wonderful?!" No argument here!
The reception began immediately after the film ended, and was held in the theater courtyard. Live music, good food, and interesting conversation were elements of the final "event" of the evening. Philip Kaufman is one of the people my husband and I spoke to. This occurred just before the film began, as he was waiting to be introduced, so we didn't have an opportunity for a lengthy chat. We hoped to speak with him more at the reception, but were unable to spot him.
It was a marvelous evening, one that I will treasure for some time.


November 11: I found a write-up on Quills and the AFI "Fest 2000" closing night festivities by Paul Zimmerman for an independent film magazine:
FADE IN: 405 FREEWAY - NIGHT -- Rain. Rain in LA. It's one of the first storms of the season and that means trouble. Not from the slick build up of oil on the dry streets. From the cell phone wielding, panic stricken drivers. Cars swerve and I'm going to be lucky to make the screening of the closing night film QUILLS. But luck is on my side and after passing the umpteenth spin off I make it in time.
QUILLS marks something of a grand return for director Philip Kaufman. A legend among indie legends, Kaufman has seen his career rise to dizzying critical heights (THE RIGHT STUFF, THE UNBEARABLE LIGHTNESS OF BEING) while his box office status has always remained low and under the radar(HENRY AND JUNE).
He hasn't been seen of since `93s RISING SUN, his stab at an intelligent big Hollywood thriller (an oxymoron?), that only did moderate business and drove Kaufman into several years of development hell. The pit of that hell was seeing two years wasted trying to bring the best selling horror novel THE ALIENIST to the big screen.
With QUILLS, a tale about the last imprisoned days of the Marquis de Sade, seems just the perfect tonic to put Kaufman back in the proper standing. Starring Geoffrey Rush as the Marquis and Kate Winslet as the fetching chambermaid who helps smuggle his subversive (and arguably pornographic) writings out to a hungry Napoleonic era public, QUILLS is a bawdy, robust tale full of sex, violence, great performances and a cultural bonus, a moving tribute to free speech.
Following the film's unspooling at the Egyptian Theater on Hollywood Blvd, hundreds spill into the outdoor reception to find it's still raining on their parade. As the majority of folk in LA are apparently made of sugar, they shriek in horror and run for cover. Unfortunately only two areas that offer sanctuary are a concrete overhang which buttresses the theater's lobby and an empty store where a Texan folk singer is vainly trying to perform over the din.
Kaufman, a slight, soft spoken, bearded man, is holding court in center as several well wishers shower him with praise. Indeed the buzz on QUILLS is big, the biggest of a week that has featured overwhelmingly positive screenings. "I loved it," says one scribe while stuffing appetizers into his mush. "It's so refreshing to see a film that's so artful and yet.. sexy." "It's a real bodice ripper, I'll give you that," says another adding, "Did you notice? Kaufman looks like he could be Curtis Hanson's older brother." Behind me a woman grouses. "I got stuck in the god damned rain. I missed the whole god dammed movie. God damn it!" Her friend puts a hand to her shoulder and gushes. "It's wonnnnnderful. Wonderful. Oscar talk has already started on (Kate) Winslet, (Geoffrey) Rush and Joaquin (Phoenix)." The gentleman with his arm at her waist joins in, "Picture ONE FLEW OVER THE CUCKOO'S NEST remade by Ken Russell. Not current Ken Russell. DEVILS era Ken Russell. It's like that film too. Sex. Religion. Politics. Self-flagellation. Torture. Hypocrites gaining power. It's also very today. Very current."
The rained out woman is confused. "If it's CUCKOO'S NEST, who's the Nicholson part?" "Rush, I mean the Marque de Sade," he counters quickly. "Michael Caine is the Nurse Ratchet character and Joaquin Phoenix is Billie the stutterer." "Phoenix stutters? "No, it's just…" "Now you're stretching things," starts the woman as I move out into the dreaded rain and head for the folk singer in the cabaret. Nearing the door I hear much shouting as several huge bouncers are turning dozens of soggy patrons away. "We're way over capacity," says one organizer holding up her hands. "The fire marshall just threatened to close us down."
One of those turned away is KIDS IN THE HALL alumni Scott Thompson, one of the festival's "New Directions From American Independents" judges. A guy who normally just can't stop joking: for the festivals program book, he sent in a cartoon of himself instead of the requisite photo. But he's not laughing now (although he is smiling a clenched jawed, death like grin). "It's OK, it's OK," he says toward the blocked door and backs away.
The rain starts coming down harder and the crowd quickly begins to dissipate. A laughing scribe beside me crows, "So the festival ends not with a bang but a drizzle covered whimper." I nod and agree and then make my way into the night. "A drizzle covered whimper," I'm still thinking 20 minutes later on the 101 freeway when the sports car to my right does a 180 degree spin and gets collided by the car that was tailgating it. Now THERE'S a bang. But that, as they say, is another story.