It isn't my intention to post here every review (Whew, there were so many!), but the most interesting.

Review Excerpts
Andrew Sarris, New York Observer - a must read!
Jack Mathews, New York Daily News
F.X. Feeney, LA Weekly
Stella Bruzzi, Sight and Sound
Paul Fischer, Dark Horizons
Robert Strohmeyer, Filmcritic.com
Tom Brook, BBC News
David Elliott, MSNBC
Joe Holleman, St. Louis Post-Dispatch
Leslie Felperin, BBC News
Alexander Walker (#1), The London Evening Standard
Alexander Walker (#2)
"Keitel Clears The Air"
Popcorn News Interview with Kate


Reviews Excerpts:

About the film:

"Once in a while, first-rate acting meets up with powerful directorial and cinemagraphic vision to make a truly great film, and this time it's the audience who got lucky...'Holy Smoke!' is a masterpiece." Robert Strohmeyer, filmcritic.com

"...On a purely visual level, 'Holy Smoke!' is the year's richest work, a sublime conglomeration of vivid colours, which beautifully represent the divided cultures that Campion strikingly explores...It's an exquisitely textured film, and cinematically, Campion's most mature work. At the same time, as visually hypnotic as the film is, that aspect of 'Holy Smoke!' doesn't detract from her detailed sense of character and theme." Paul Fischer, Dark Horizons

"There's no doubt in my mind. 'Holy Smoke!' is a masterpiece in every way...in the end it all falls into place and you will see that this movie is not just a movie. It's a work of art." "Smokey", Ain't It Cool News

"What transpires is so rich that I've seen this movie three times. The joy of being involved with two wholly truthful (if colorfully fucked up) characters is that exhilarating. Ideas, feeling and repartee fly in a sustained duet, but this is no 'talking heads' movie." F.X. Feeney, LA Weekly

"Lusty, gutsy and shot on sunlit Australian landscapes so scrumptious and rich they almost sear your eyes, 'Holy Smoke!' is as much fun as anything director/co-writer Jane Campion has ever filmed." Chicago Tribune

"The give-and-take, the changing dynamics, the soft and harsh notes of PJ and Ruth's relationship create some devastating scenes." Jack Matthews, Daily News

"The story boils up in surprising ways, and even though the approach can be brash in the Aussie manner, it gives the movie an unrelenting ferment of interest, energy and humor." David Elliott, San Diego Union-Tribune

"This film keeps the audience dancing like a fish on the line. It's frustrating and even a little distracting, but it's a damnably compelling mix of emotional color." Sean Axmaker, Nitrate Online

"Jane Campion's latest film is fierce, passionate, and brilliant." Vogue

"Every shot Campion and cinematographer Dion Beebe come up with is a compositional classic...Indeed, Smoke's throwaways are better than most movies' 'big scenes.'" Mike Clark, USA Today

About Kate Winslet's performance:

"It is by the grace of Kate Winslet's extraordinary and unparalleled range as an actress in what passes as the modern cinema in all its post-censorship sensations...Ms. Winslet...continues to amaze with the sheer variety of her changes in accents, expressions and physical postures...[She is] champagne and caviar for moviegoing grown-ups with good taste." Andrew Sarris, The New York Observer

"Winslet's performance is the best on screen from a woman this year." Garth Pearce, Sunday Times

"Winslet, possibly the best and certainly the most courageous young actress around, more than holds her own. Hers is a raw, commanding, captivating performance; she blends intelligence, strength and sensuality into a package that might defeat the Devil himself." Jack Matthews, Daily News

"Winslet is positively enthralling in her role." Robert Strohmeyer, filmcritic.com

"Winslet is a wow. Ruddy with sun and religious fervor, full-bodied in every sense of the term, she really blossoms into a formidable actress here. She handles everything a wily fox like Keitel can throw at her, and more." Robert Horton, film.com

"Winslet gives her best performance to date here. At times tough, fragile, sexual, uncompromising and bold, she is totally absorbing as a young woman in search of herself and her identity." Paul Fischer, Dark Horizons

"Showing the kind of courage few young thesps would be capable of and an extraordinary range that sees her swing from crushed vulnerability to abrasiveness and brutality, from animal cunning to unhinged desperation, she holds nothing back. And the British actress delivers it all with a flawless Australian accent." David Rooney, Variety

"Winslet's is a really spectacular performance, so richly drawn and alive, you can't separate actress and character for a moment." Chicago Tribune

"Kate Winslet brings an insinuating, sensual force to everything she does. Among the new actors, she is a special prize." David Elliott, San Diego Union-Tribune

"You have to admire...Winslet's intensity. As if to turn her back forever on Victorian corset roles, she throws herself into her character with a fury that's awe-inspiring." Robert W. Butler, The Kansas City Star

"Winslet is never less than fascinating in it...The marvel of Winslet's performance is she makes Ruth seem more intelligent and admirable as the film progresses." James Verniere, Boston Herald

"To pull off such a role requires kamikaze commitment, and Winslet pushes her acting to an exalted new level. What courage!" Vogue

"Sexy, snotty, vulnerable and above all contentious, she's the catalyst in a movie that creates more man-woman electricity than any other movie this year...Her performance is an acting achievement that will compete...for top honors." Mike Clark, USA Today

"Kate Winslet is so sexy in a raw and earthy way that she throbs." Bob Ivry, The Record

"If she doesn't win it [Academy Award] this time, I will loose all the respect I have left for that big monster of a show." "Smokey", Ain't It Cool News

"Winslet fearlessly [plumbs] emotional depths surprising for an actress so young...It's Winslet's film: she goes so far that the film can barely contain her." Gary Mairs, culturevulture.net

About Keitel's performance:

"The naked energy and emotionally charged performances by Keitel and Winslet - both superb - provide the film with an intelligent centre on to which Campion grafts another brilliantly observed study in suburban eccentricity." Trevor Lewis

"There isn't another actor, of any age, who can raise sexual tension to the danger level as quickly or as convincingly as he can." Jack Matthews, Daily News

"Keitel is intense and commanding." Robert Strohmeyer, filmcritic.com

"In a role written especially for him, Keitel struts around in parody of many things: American maleness, middle age's craving for youth (his hair is oiled with black dye), and even the idea of 'Harvey Keitel'. Long before he fits himself into a tight red dress, he delivers a brave performance." Robert Horton, film.com

"Keitel is always memorable, and here he delivers another remarkable, audacious and unexpectedly moving performance." Paul Fischer, Dark Horizons

April 2 - From Time Out - by Geoff Andrew:
It becomes easier to discern a persistent thematic thread: how we're all conditioned, not just in our spiritual beliefs but in every area of life, and how we must interrogate traditional assumptions to discover our real selves. It's a brave, adventurous, refreshingly frank film - qualities also characterising the performances, particularly those of the leads. Less cohesive, perhaps, than The Piano, but just as bold, bracing and worthy of praise.

April 2 - From The Times - by Clive King:
Campion returns to form with this meditation on spirituality and sexual politics. Kate Winslet is magnificent as Ruth, a young woman locked in a power struggle with the "exit counsellor" (Harvey Keitel) who has been hired to break her allegiance to an Indian guru.

June 7: Sylvia of Dougray Scott in Focus found this "Holy Smoke" feature on Urban Cinefile (Australian):
Video Release (Australia): June 6, 2000
Video Distributor: Roadshow Home Entertainment
Excerpts from the article:
"Kate Winslet glows with an excellent performance… Intriguing, complex and artistically vibrant, Holy Smoke is as beguiling as it's title, travelling in a myriad directions with the breeze - like smoke." Louise Keller
"Campion's continuing exploration of female sexuality and the power battle between men and women (Sweetie, The Piano, Portrait of a Lady) is challenging and captivating. Whether or not you are repelled or drawn in by this gorgeous and unsesttling movie could depend on your attitude to those topics.… Holy Smoke is remarkable and destined to be one of those revisited classics that are more rewarding with each viewing." Diana Simmonds
"I urge you to see Holy Smoke and debate it: it is unique, and in showbiz that is already something special." Andrew L. Urban
Link to the article -Urban Cinefile Feature


Reviews:

If I was an actress, and received the following praise from a well-respected film critic like Andrew Sarris, I'd be in 'seventh heaven'!!
From The New York Observer, October 1999:
"Winslet Joins Keitel in Campion Sequel", by Andrew Sarris -
Jane Campion's Holy Smoke, from a screenplay by Anna Campion and Jane Campion, treads a fine line between mordant irony and mere facetiousness as it hops back and forth between Australia and India in a guru-driven sensual quest for faith and fraud. Ms. Campion is a wild talent even by Australia's wild standards, which is to say that Holy Smoke is by turns witty, messy, perceptive, outrageous, incoherent, satirical, bombastic, cruel, lecherous, compassionate, violent, reflective and terminally unstable from one shot to the next. If it is held together at all, and I am not sure that it is, it is by the grace of Kate Winslet's extraordinary and unparalleled range as an actress in what passes as the modern cinema in all its post-censorship sensations.
Ms. Winslet's Ruth is a young Australian woman bewitched by the scents and certitudes of vaguely eastern religions. Tricked by her parents into returning home from lightly spoofed India to heavily spoofed suburban Australia, Ruth finds herself delivered from one middle-aged guru in Hindu ceremonial costume to another middle-aged guru hired from America to reprogram her back into the tedium of suburban puttering and piety. Harvey Keitel's P.J. Waters is summoned by Ruth's family as a high-powered "spiritual" expert with a reputation for making his cult-possessed subjects use their own minds to free themselves from their obsessions.
Mr. Keitel, now in his late 50's, is six years older than he was when he produced a priapic furor with his primitively matter-of-fact frontal male nudity in Ms. Campion's award-winning The Piano (1993). At that time, his female co-star Holly Hunter was in her mid-30's and no special attention was paid to the age differential. In Holy Smoke, however, Mr. Keitel's P.J. Waters is tormented and humiliated by Ms. Winslet's much younger Ruth for his dirty-old-man presumption. This is the crux of the drama and the heart of the matter: By finally discovering her sexual power as a woman along with its destructive potentialities, Ruth discovers also the warm maternal side of her nature that enables her to take pity on her pathetically obsessed lover.
In fairness to Mr. Keitel's talents as a performer, it must be conceded that he is too much of a known quantity to surprise us anymore with his brand of hard-edged Actors Studio sensitivity. Ms. Winslet, however, continues to amaze with the sheer variety of her changes in accents, expressions and physical postures, from her homicidal nymphet debut in 1994 in Heavenly Creatures through Sense and Sensibility (1995) and Jude (1996), as well as her both overshadowed and underrated performances in the more recent Titanic (1997) and Hideous Kinky (1998).
Without Ms. Winslet to lend dignity, stature and complexity to the flaky, bratty, snotty role of Ruth, Holy Smoke would have floated away in the froth of broadly caricatured Australian and Indian gargoyles. Ms. Campion's direction of actors and her depiction of social types have always mixed large doses of ridiculousness into the Australian absurdist stew, often seemingly in a bid for easy laughs and impolite shocks. Fortunately, Ms. Winslet's Ruth is a fluid enough collaborative creation to blend into her crudely dysfunctional family without losing her individual qualities that enable her in the end to find her way in an adult manner. Among the other players, Julie Hamilton as Mum, Tim Robertson as Dad and Pam Grier in the cameo role of Carol - the stateside squeeze of Mr. Keitel's P.J. Waters - have moments of escape into their private interiors from the constrictions of their sociologically programmed images.
I find it increasingly bizarre for people to complain that there are no parts for women when I seem to discover on the contrary every week that this may indeed be the golden age for actresses, though perhaps not at the kiddie-action-driven movie marketplace. Ms. Winslet is, by contrast, champagne and caviar for moviegoing grown-ups with good taste.

From the New York Daily News, December 3, 1999:
"Holy Smoke - What Acting!," by Jack Mathews
Winslet and Keitel are brilliant as cult member and deprogrammer -
It is the second night of an intense three-day deprogramming session in the Australian desert, and Harvey Keitel's P.J., an American "exiter" hired to reclaim the soul of a young Aussie woman, seems to have won the battle. Ruth (Kate Winslet) stands before him, psychologically, spiritually and literally naked, begging him to personally replace what he has taken from her, and underscoring her loss of control by urinating on herself. If that is indeed the moment when Ruth surrenders to P.J. in Jane Campion's strangely absorbing Holy Smoke, it's also the moment she takes charge. Victory is an aphrodisiac to P.J., and as he follows Ruth's collapse by having sex with her, the balance of power is tipped.
For all the hand-wringing about spiritual manipulation, Ruth doesn't appear to be in danger of anything except her family's misguided concerns and P.J.'s ghastly ego. Yes, she became involved with a Hindu sect in India, and she now wears a sari and, occasionally, a little dot between her eyes. But, all things considered, we should be happy for her. She has found some positive purpose to her life, and even if she's planning a metaphorical marriage to her guru, Baba, her corner of New Delhi looks a lot better than life at home.
Campion's main interest is not in the spiritual angle of her story but in the battle of wills between a stubbornly confident woman and the deceptively insecure bully she exposes. The truth is that when Ruth bares and humiliates herself before P.J., she knows what she's doing. The question, once he has taken the bait, is whether she'll get her anger under control before he's driven completely mad. The give-and-take, the changing dynamics, the soft and harsh notes of P.J. and Ruth's relationship create some devastating scenes.
Keitel is too old to be making love to young women in movies, and he looks ridiculous with hair dyed jet-black, not to mention the red dress he eventually slips into. But there isn't another actor, of any age, who can raise sexual tension to the danger level as quickly or as convincingly as he can.
And Winslet, possibly the best and certainly the most courageous young actress around, more than holds her own. Hers is a raw, commanding, captivating performance; she blends intelligence, strength and sensuality into a package that might defeat the Devil himself.
Campion, whose last portrait of a woman taking charge (The Piano) netted a batch of Oscar nominations, nearly ruins this one with an outrageously cartoonish supporting cast. And she blows a perfectly conceived, natural ending (look for a truck driving into the sunset) by tacking on one of the dopiest and most unnecessary codas (it begins with the words "one year later") I've ever seen.
Nonetheless, Winslet and Keitel make this a must-view in a season where the scent of Oscar is in the air.

From LA Weekly, December 3, 1999:
"The Body Never Lies," by F.X. Feeney -
It's night, heaven knows where, and we're looking out through the dusty, harshly illuminated windowpane of a rickety bus. The opaque glass is smirched with a jot of mustard-yellow paint that appears to have perished halfway up the slope to becoming a word in Sanskrit. Neil Diamond music ("Holly Holy") fills our ears: A kitschy '70s pop song redolent with ghosts of gospel. Nobody's playing it on the bus; here in the realm of Jane Campion's Holy Smoke!, it's the very music of the universe. Ruth (Kate Winslet) is an Australian beauty touring India. Men idly try to feel her up -- their faces and hands so glisteningly inky they seem to be fashioned out of night air -- but she calmly shoos them away. Ruth is never terrified, implies Campion. Her female traveling companion may be screechingly phobic, but Ruth is an adventurer; her fearless willingness to commit to her fascinations is what makes her heroic and worth watching.
The beauty of this overture is that it suspensefully prepares us for a journey into mystery without ever stooping to manipulation. A lesser director might have indicated that these dark-skinned men on the bus are sinister for being dark; as illuminated by Campion's eye, they are merely unknown. That Ruth isn't particularly threatened makes her radical transformation in the next scene, when she meets a charismatic guru, all the more hair-raising and enigmatic. The guru's eyes glow like coals (a terrific, organic use of special effects); the soundtrack becomes a tunnel of Babel that matches Ruth's racing pulse.
After she becomes this guru's hyperecstatic disciple, Ruth's panicked family tricks her back to Australia, locks her in a remote house with PJ (Harvey Keitel), an American "cult exit specialist" whose three-day mission is to argue with Ruth, one-on-one, and break her of her presumed brainwashing. Their psychological tango is the molten core of the film, a comedic, sexually charged power struggle. Stories about cult survivors doing battle with their often depraved rescuers have been a familiar staple of movies since the early '70s -- Ticket to Heaven, Split Image -- but Campion and her co-writing sister, Anna, are less interested in creating another muckraking exposé of the danger of cults or the ironies of rescue than they are in dramatizing the sheer cultishness of life everywhere. Viewed in Campion-scope (especially against the backdrop of this tale), there is a shared pattern hidden under all of our devotions, be they to God, rock & roll or the collection of knickknacks on our dressers. Ruth's family is a deliriously toxic crew: sheepish, snide, superstitious, addicted to beer and television; small wonder Ruth bailed, one thinks, as they throw money at her "problem" and perpetually obey the strongest voice in the room.
Absurd candy-apple houses that look blindingly identical from the air, bad toupees, bronzed potbellies, poodle clippers -- Holy Smoke!'s attention to the ghastly swirl of such details in modern life is mercilessly funny, yet its people are never the butts of satire. Ruth's mother, Miriam (Julie Hamilton), is particularly vivid: myopic, ungainly, scared of the world, often wildly confused ("The Lord's Prayer -- that's not the one that has the word death in it?"), a paragon of humanity's ills, yet arguably the noblest person in the film because she proves the most unselfish -- her whole concern is for her daughter's well-being. Keitel's PJ, by contrast, is a gnarlier piece of work. Like Ruth, he enters on the spreading wings of a Neil Diamond song, "I Am, I Said," about the frog who dreamed of being a king, then became one. It's PJ's anthem and his autobiography, and the song powers the camera's giddy climb from his snakeskin boots to his beady, reptilian eyes. Keitel is so fearlessly willing to look ugly here that the very force of his willingness wins him an inner beauty, one to which Campion's eye is ideally attuned. PJ is led by his curiosity, and in this, he is deeply like Ruth. He doesn't sit in judgment on himself; he fearlessly goes wherever his intuitions lead, come what may. The believer and would-be savior are thus matched heavyweights, and this makes their one-on-one all the more volatile and unpredictable.
What transpires is so rich that I've seen this movie three times. The joy of being involved with two wholly truthful (if colorfully fucked up) characters is that exhilarating. Ideas, feelings and repartee fly in a sustained duet, but this is no "talking heads" movie. Ruth isn't one to take her captivity lying down. What's more, because PJ so shamelessly fancies himself a rescuer of women, he leaves a glaring loophole in his own psychological fortifications through which she is able to attack him. The two navigate a topography fraught with ambush and role reversal.
Winslet's growing power as an actress is beautiful in itself. One is used to seeing Keitel take risks -- his nude scenes in Bad Lieutenant and Campion's The Piano were models of honesty in action. Here, he's asked to submit to a farcical meltdown of his machismo involving one of Ruth's garments. Winslet's body, by contrast, becomes the emblem of the film's moral force: When Ruth disrobes before PJ at one ambiguous turn, the gesture is both erotic and sinister. Whether she's been driven mad by his tactics or is setting a deliberate trap because her beauty has made her bait for every controlling male on the earth's surface is an open question. In either case, she is confronting him with nothing less than the truth of herself.


Review in Sight and Sound, by Stella Bruzzi: [Thanks to Ian for the tip!]
Holy Smoke is an exquisite and unexpected film. Frank Auerbach once remarked that fellow British painter Michael Andrews was a great artist because he only ever produced masterpieces; a similar tribute could almost be paid to Jane Campion, despite the odd blip, such as The Portrait of a Lady, a film weighed down by the expectations generated by The Piano. Paradoxically, despite the echoes in Holy Smoke of earlier work such as Sweetie and Passionless Moments, the latest film is mature and finely polished. Both in style and subject, Campion has abandoned the earnest precision of the crinoline genre and has resuscitated the light, witty touch she displayed in her films set largely in modern times. For all its stylistic richness, The Piano lacked spontaneity; Holy Smoke - the story of recent cult convert Ruth Barron's confrontation and eventual relationship with "cult exiter" P.J. Waters - is vibrant, alive, and comes more from the heart than the head.
Symptomatic of this shift towards imaginative exuberance is Campion's abandonment of Stuart Dryburgh's lush but convoluted camerawork (his swooping, vertiginous helicopter shot over the New Zealand cliffs in The Piano is now an oft-imitated cliché). Shot by Antipodean DP Dion Beebe (Crush), Holy Smoke's style is more playful. Its mise en scène juxtaposes mundane detail with pyrotechnic flights of fancy (for instance, the garish, hypnotic Pierre et Gillesesque sequence marking Ruth's conversion, or P.J.'s hazy, love-fuelled vision of Ruth as a six-armed goddess). In both The Piano and The Portrait of a Lady such extravagances jarred (remember the 'talking' lima beans in Portrait?); here they're tropes integral to the narrative and keys to understanding Ruth and P.J.
Holy Smoke is ostensibly a film about cults and cultism, in much the same way as Sweetie and Angel at My Table were about mental illness. But as with those films, what makes Holy Smoke so joyous (as if Campion herself is finding the means to express her liberation from the costume film's stays) is the fact that the subject matter never constricts the film. It's only one element in a much richer narrative centring on the ambiguities of characters and relationships, Campion's most consistent preoccupation.
On paper, the love affair between cult member Ruth (Kate Winslet) and her deprogrammer P.J. (Harvey Keitel) sounds like a cliché. But in Campion's hands their liaison becomes emblematic of how power trickles back and forth between lovers. By degrees, P.J. and Ruth's roles are reversed as she becomes his guru. Holy Smoke doesn't judge their mutual dependence: Ruth's susceptibility is an imaginative need, a craving for a life freed from banality, hence the preponderance of subjective fantasy sequences. At first P.J. is characterised by a lack of fantasy, but by the end he has discovered a comparable desire for imaginative liberation as he permits her to dress him in a provocative red dress, to daub his lips with matching lipstick and to transform his life. Existence is a chain; we learn from and mimic each other.
In this way, cultism may be the catalyst for the action in Holy Smoke, but it is essentially a film about the tenuousness of most people's sense of self - our decentredness, our malleability, our vulnerability in the face of our own desires and the manipulative skills of others. Everyone in the film, not just Ruth, is impressionable (there's her mother, played by Julie Hamilton, who returns to India with her at the end; there's her sister-in-law, played by Sophie Lee, who, when she isn't imagining sex with film stars, falls for P.J. in much the same irrational way as Ruth did), and they all, in the chaos that pervades the whole film, are attracted to each other in a desperate attempt to flee from themselves.
Certainty and identity are learned, not innate. In delivering this idea, Holy Smoke is Campion's most superficial film, brimming with visual trickery, sudden changes of direction, unpredictable characters. It is ultimately about reconciling imagination with reality. Just as the film marries fantasy and realism, so the characters, having undergone their own tortured and extreme awakenings, become reconciled to compromise. Across continents Ruth and P.J. become virtual lovers, a state of being, the film suggests, we're all in. Holy Smoke can be read as a text of reconciliation: between realism and surrealism, earnestness and irreverence, oneself and the world. It is an immense, emotional, engrossing film that nevertheless wears its brilliance casually.


From Dark Horizons, November 24, 1999:
Review by Paul Fischer -
Australian Ruth (Kate Winslet) goes to India and falls under the influence of Baba, the spiritual leader of a religious cult. When she informs her parents back home that she plans to stay with Baba, her concerned mother (Julie Hamilton) heads for India. She finds Ruth and tells her that her father is dying. Ruth reluctantly returns home and is outraged to find that she has been deceived. On top of this, her parents have hired PJ Waters (Harvey Keitel), a professional cult buster, to bring her back to her senses. A ferocious battle of wills ensues between these two stubborn souls. It's easy to understand why Jane Campion's latest film has become so divisive. Critics are intent on taking her latest film oh so seriously. When it comes down to it, Holy Smoke is an irreverent comment on sexual politics and power, and at last, Campion has decided not to take herself - or her visions too seriously.
This is a far more interesting and original work than her previous two films, and like The Piano, it's likely to cause considerable comment. While Piano seemed to be such an alienating experience, Campion and her co-writer on this, sister Anna, have scripted a piece complete with a self-deprecating sense of humour. While they don't parody some of the film's important elements by any means, they certainly treat much of its spirituality, for instance, with a deft degree of slyness. Perhaps being older and wiser have made Campion a more interesting storyteller, and Holy Smoke invites us back to the world of Sweetie, but with even more depth and visual flair that was apparent with that breakthrough film.
To begin with, on a purely visual level, Holy Smoke is this year's richest work, a sublime conglomeration of vivid colours, which beautifully represent the divided cultures that Campion strikingly explores. The stark browns of the harsh Australian desert are a counterpoint to the idealistic brightness of India, which opens the film. Director of photography Dion Beebe has encapsulated so perfectly the diversity of Campion's vision. It's an exquisitely textured film, and cinematically, Campion's most mature work.
At the same time, as visually hypnotic as the film is, that aspect of Holy Smoke doesn't detract from her detailed sense of character and theme. The film is intrinsically a two-hander, and Campion's skillful casting of Kate Winslet and Harvey Keitel, ensures that her comment on sexual power is compelling. And it is. The characters are both fascinating to watch and listen, and what one sees is never what one gets, which makes Holy Smoke a persuasive film to sit through. The film's exploration of sexuality and the role of men and women become both sexy and funny, erotic and intense, and always intriguing. These aspects of the film are in stark contrast to Campion's droll satire of Australian suburbia and the nature of family, themes she initiated with Sweetie.
Winslet gives her best performance to date here. At times tough, fragile, sexual, uncompromising and bold, she is totally absorbing as a young woman in search of herself and her identity. As an Australian character, the actress fits into the mould like a glove, and never fails to convince us that she's an Aussie. Keitel is always memorable, and here he delivers another remarkable, audacious and unexpectedly moving performance.
In lesser but fun roles, the delightfully effervescent Sohie Lee once again delivers the comedic goods as a frustrated housewife, who fantasises about making love to film stars, while as the parents, Julie Hamilton and Tim Robertson are sublime.
As quintessentially Australian as elements of Holy Smoke is, the film is her most accessible. With a ferocious humour and dramatic intensity rarely seen, this is Campion's most engaging, most human and most deliciously entertaining film to date. It may be confronting at times, but don't' take the director's vision too seriously; then, you'll enjoy the ride.


From Filmcritic.com:
Review by Robert Strohmeyer -
It's so comforting to see a talented actor recover from the precarious heights of mass-market success. After Titanic , I was perfectly prepared to condemn Kate Winslet to the same pit of has-been obscurity Leonardo DiCaprio belongs in. Fortunately, Winslet didn't sink with the ship.
Holy Smoke is the entrancing story of two zealots on a collision course with fate. Ruth, played by Winslet, is a young Australian who finds what she believes to be the path to enlightenment through the influence of a Guru while on holiday in India. When Mum (Julie Hamilton) gets word, she cooks up a plot to lure Ruth home and hires top cult deprogrammer PJ Waters (Harvey Keitel) to bring her daughter to reason.
Once trapped by her family, Ruth agrees to spend three days with Waters, beginning a game of cat-and-mouse that blurs all boundaries between therapist and patient. The balance of power turns when PJ falls under Ruth's seduction, leading them both on a descent into madness that is disturbing, enchanting, and sickly hilarious.
Winslet is positively enthralling in her role, presenting an inspired encore to her 1999 performance in Gillies MacKinnon's Hideous Kinky. Keitel is intense and commanding, tapping into the same hardcore energies we saw in Abel Ferrara's 1992 shocker, Bad Lieutenant. For what it's worth, I'm predicting Oscar nominations.
Once in a while, first-rate acting meets up with powerful directorial and cinemagraphic vision to make a truly great film and this time it's the audience who got lucky. Cinematographer Dion Beebe and director Jane Campion (The Piano) deserve strong kudos for this one. Also worth mentioning is the comic and bizarre contribution of the supporting cast, including Pam Grier (Jackie Brown). Sophie Lee (Muriel's Wedding) is a complete riot as Ruth's incompetent sister. I suspect much of Grier's work on this film is cluttering the cutting room floor, and her character is just never realized. Outside of this one shortcoming, Holy Smoke is a masterpiece. See this movie.
5 stars [highest rating]

From BBC News, November 5, 1999:
"Holy Smoke: Winslet's Back," By Tom Brook -
Director Jane Campion's latest film, which stars Kate Winslet and Harvey Keitel, has emerged as one of the highlights of the New York Film Festival. In Holy Smoke, Keitel plays an American "spiritual" expert who is hired to free a young Australian woman from the influence of a guru in India, but succumbs to her sexual wiles.
The film's director, Jane Campion, who was in New York to promote the film, says Holy Smoke is "in some ways about people's journey to the heart". She co-wrote the screenplay with her sister Anna, not out of a fascination with cults but because she was "really interested in trying to approach a spiritual life today in the 90s, or try to understand it".
Raw emotion - Winslet has received some glowing reviews for her role which required her to speak with an Australian accent, appear stark naked, expose raw emotion and urinate outdoors while standing opposite Harvey Keitel. Campion has nothing but praise for Winslet whom she thinks is "an absolutely extraordinary young actor" who is extremely committed to her work. Campion also thinks Winslet is a girl for her time, because "she has got a body shape which is individual and beautiful and not excessively thin".
The Campion sisters say the role of the cult de-programmer was written with Keitel in mind. The actor worked very effectively with Jane Campion before in her highly acclaimed 1992 film The Piano. In Holy Smoke Keitel really breaks new ground, because - as a result of his character's mind games with the young woman he is trying to de-programme - he ends up wearing lipstick and sporting a red frock. Jane Campion says she was not sure if Keitel would be interested, because she believes a lot of American actors would have balked at the idea. However, he "really, really wanted to play it" and to her surprise "the red dress was a favourite". And to make him feel more comfortable when they were shooting the frock scenes "all the men on the crew wore a dress too, in solidarity with Harvey".
Undercurrent of feminism - Harvey Keitel is a powerful actor and Jane Campion says one of the reasons why she cast Winslet is because she wanted to have someone equally strong opposite him.
The director admits Winslet even intimidated Keitel in an audition, which worked well for the part, because the relationship between the two on-screen is a power struggle in which the young woman turns the tables on the older man and gets the upper hand. There is an undercurrent of feminism in the film. Campion says: "I was interested in looking at the older man-younger girl (relationship) and wanting to give the girl a voice in this issue."
Holy Smoke does not just deal with the nature of older man-younger girl relationships, it also examines people's quest for a spiritual life, and the threat that an all consuming religious belief can pose to others.
The film's big ideas are both its strength and weakness. It is engaging to watch and raises all kinds of questions, but at times it feels like the characters lose credibility as they play out roles to match the film's themes.
Polarised reaction - Reaction to the film is polarised. People seem to love it or hate it, a response which even the director confirms. Nearly everyone agrees that it is beautifully shot, and Winslet is being applauded for her work. Following the success of Titanic, the actress could have easily opted for crass, commercial projects. But instead she has decided to take on much more demanding roles which have served her well by proving beyond any doubt that she possesses remarkable skills as an actress.

From MSNBC.com, February 10, 2000:
"Smoldering Winslet in Holy Smoke" - A movie caldron that mixes sex with spirituality, by David Elliott -
Kate Winslet brings an insinuating, sensual force to everything she does. Among the new actors, she is a special prize. Winslet was no mere wisp as Ophelia in Kenneth Branagh's Hamlet, and she added heat to Ang Lee's Sense and Sensibility. She not only met the erotic force of North Africa head-on in Hideous Kinky, but deserved more credit than she got for Titanic, breaking her Edwardian frontage for some nudity and giving that big, boat-driven film some female urgency.
Probably her best vent for risky performance, so far, is Jane Campion's Holy Smoke. This goes well beyond Winslet using an Aussie accent and going to India, and even beyond her frank nudity. Winslet gets bare on every level in this story, playing a woman who is all appetite for change and challenge, and living in a hornet's nest of messy motives.
She is Ruth Barron, who comes from one of those Sydney suburban families that loves spending "party time" in the Outback, drinking beer and dancing (Campion maybe oversells this aspect). The Barrons like the idea that their kids are hip to guns, and they are tolerant of a grown son being gay, but they draw a harsh, censorious line when Ruth goes to India on a spiritual odyssey. Soon she is in an ashram, wearing a sari. And when the guru puts his finger between her eyebrows, her "third eye" blossoms with a glowing, beatific vision. Possibly Campion should have resisted making this look like a flashback to a Bay Area rock poster in 1967, but she captures the heady turbulence of India, its woozy horizons, and how, really, does one film a spiritual epiphany?
Ruth's mother, played as a rather dear dodo by Julie Hamilton, flies to India to retrieve her "enslaved" daughter, her "golden girl." The mom not only has a breakdown nearly as extreme as Mrs. Moore's in "A Passage to India," but lies to Ruth that her father is dying.
Back home in the raw Outback, Ruth still has her sari and her spiritual high, but she is naively a novice in the wiles of religious combat. And she is emotionally exposed. Ruth scorns her dad, a philandering booze beast, and her need for a guru (as a new paternal figure) sets her up for what seems like easy turning by an American deprogrammer, the "cult exiter" PJ Waters, who has the look of a Cajun roadhouse devil and the bolted machismo of Harvey Keitel.
Role Reversal - PJ, a rooster clad in black who sports a lip goatee and dyed hair, is some piece of lurid work. Seemingly about as spiritual as a chain saw, he has had 189 successful "saves," with "a recidivist rate of only three and a half percent." Ruth, targeted as No. 190, is the pigeon in hand who proves, to PJ's surprise, more than a handful.
Keitel, who got naked in Campion's The Piano, is now aging beef, though soon on display. PJ locks his controlling voice and raptor eyes on Ruth, only to find her firing back at his weak points … his vanity, his preening as a "thinker" (quotes from Socrates, the Upanishads) and, above all, his sexual appetite, which could wreck the pedantic "three-step program."
Once she gets her dander up, Ruth is ready to do some frisky deprogramming on PJ. There is compulsively lusty comedy in this, but Campion does more than stage a "Last Tango in the Outback" party. The story (co-written by sister Anna Campion) boils up in surprising ways, and even though the approach can be brash in the Aussie manner, it gives the movie an unrelenting ferment of interest, energy and humor.
I prefer this to Campion's and Laura Jones' exquisitely calibrated, but too calculated, approach to Henry James in The Portrait of a Lady (and I prefer Winslet to Nicole Kidman, overall). That movie had a lot of intelligence, but it offered its passions pedantically, and even the reptilian wit of John Malkovich, the tender pathos of Martin Donovan, could not keep the film from seeming like footnotes on parade.
This time the incense potency of India is a spicing, fervently and not just satirically added to a masala of sexual politics. Without underlining, the movie nestles into something like the Indian tantric conviction that sex can open channels of spiritual change. This emerges as a tickled subtext, or a gulped punchline. "Holy Smoke" is, all in all, one tasty dish.
India and Australia make an odd couple. In Holy Smoke, much helped by a strong cast that briefly includes Pam Grier, and by the imagery of Dion Beebe and Angelo Badalamenti's score, Campion brings the cultures together expansively. The heat sparks free, and is never enervating.
David Elliott is the movie critic of The San Diego Union-Tribune.


Review by Joe Holleman, St. Louis Post-Dispatch Film Critic:
With "Holy Smoke," director Jane Campion has made a mature, probing and painfully honest film about desire and control, the two major parties of sexual politics. It features top-drawer performances from Kate Winslet and Harvey Keitel, Campion's intelligent script and her visually exciting scene-setting. Even better, it's funny.
Winslet is Ruth Barron, an adventurous young Australian woman who goes to India for a vacation and falls under the spell of a guru who separates her from her kind, lovable but amazingly odd family.
The family hires P.J. Waters (Keitel), the world's leading cult deprogrammer. They lure her back home by claiming that her father is dying, kidnap her and then sequester her with Waters in a remote cabin for a three-day session of programming. Waters is at first successful in ridding Ruth of her ties to the guru, and also in keeping a professional distance from the alluring Ruth.
But eventually, ever so slowly, the tables begin to turn. Ruth gives up her ties to the guru, but then fears that she may be falling under Waters' spell. Determined to keep her independence, she sees a chink in Waters' armor and exploits his desire for her.
Meanwhile, the Barron family fumbles along in its efforts to help, especially Ruth's sister-in-law, Yvonne (Sophie Lee), whose boring life pushes her into Waters' arms.
Winslet's performance is dead solid perfect. She manages to convey both a vulnerable sexuality and a dangerous passion, but she does it without allowing it to veer into a male-fantasy Lolitaland. At times, she uses sex as a weapon, but she has others at her disposal.
The script, written by the director and her sister, Anna Campion, is a smart look at several aspects of love: the older man and younger woman; the fight for control; role-reversal; and, especially, that battles for someone's heart often have no winners.
All this could be oppressive fare if the Campions had not injected so much humor. Along with the desperately lonely Yvonne, Ruth's family and friends make for a wonderful Greek chorus of losers. The tongue-in-cheek humor does not detract from the more serious issues Campion raises. Rather, it gives the audience a break and underscores the slapstick desperation that often punctuates male-female interaction.
"Holy Smoke" is not your basic love story. But then again, what relationship is?
* * * 1/2 (out of four)


The Pick of the Recent Releases by Leslie Felperin, BBC:
Having provided one of the all-time great dinner-party debating points in "The Piano", which never fails to bring out hostilities between genders round a table, Jane Campion goes one better with "Holy Smoke!", destined to divide viewers into fervent converts and embittered sceptics.
Me, I loved it but I could easily see it won't be everyone's cup of chai.
Never shy of chewing off the big themes, here she sloshes together sex (that old favourite) and sexual identity, the longing for religious meaning, culture clash and the nature of love itself.
Winslet plays Ruth Barron, an ordinary suburban Sydney girl (the accent's spot on), who finds rapture through the touch of an Indian guru. Her freaked-out family employs cult deprogrammer P.J. Waters (Keitel) to knock some sense into her or deprive her of the one thing which has given her ditchwater-dull life some meaning, depending on how you look at it. They go at it in an Australian desert shack, but Ruth soon discovers P.J.'s fatal weakness for sex and is soon beating him at his own game.
Slowed by a lot of debating in the middle act, it's not a perfect film admittedly but, like The Piano, Portrait of a Lady, Sweetie and An Angel at My Table, it has the winning audacity to step around the usual movie banalities and strike out for uncharted territory.
The cinematography is inventive and stunning, and Winslet, literally more naked and exposed than she's ever been before, has never been better, a great actress just starting the next plateau of achievement.

From The London Evening Standard, September 6, 1999:
"Wonder of Winslet," by Alexander Walker -
No matter how big the picture or expensive the budget, a star still needs the sort of role that defines his or her talent. For Kate Winslet, that role has come at the 56th Venice Film Festival. In a film called Holy Smoke, directed by Jane (The Piano) Campion, she at last shows the full power that lies beneath that impressive carriage-work others.
In a word, she is elemental. The word suits her. She has already embodied two of the elements, as the waterlogged heroine of Titanic and the earth mother adrift in Morocco in Hideous Kinky. In Holy Smoke she throws out the incendiary heat of a spitfire. She plays an Australian hippy doing a tour of India when a guru, whose cult meetings she has attended for a lark, unexpectedly puts the hex on her. In a flash of enlightenment, she is transformed into a sari-clad disciple who renounces the homeland of flesh and Fosters to become the fraudulent old savant's spiritual servant.
Her shocked family in Sydney, themselves a weird mob, lure her back then call in an "exit counselor" from Colorado to reverse the spell and switch her back from Nirvana to suburbia. He is played by Harvey Keitel. "Three little steps," he boasts, "and it could all be over in 24 hours." Some hope!
What follows is a duel of wills and bodies that feels like 10 heavyweight rounds between two of the biggest hitters in power acting. The struggle for Miss Winslet's religious soul is turned into one for Keitel's sexual manhood. Never has the hard man of Hollywood laid himself open so generously to the battering he receives from a woman's tongue and fists. I couldn't believe Kate Winslet had it in her.
The unreconstructed American of the Seventies, in his pressed jeans, cowboy boots and hair that has been kept black with the dye bottle, goes down fighting a girl who is into the liberation politics of the Nineties. The Socratic dialogue he intended becomes a socko test to destruction.
He takes her for brainwashing to a halfway house in a back-of beyond bit of desert, where even the makeshift putting greens are called puffing blacks because the grass refuses to grow there. And in a performance that doesn't yield an inch to her mentor, but takes in yards of feminist feistiness, Miss Winslet proves she can get down and dirty with the toughest stars of Hollywood. Once she has shaken Keitel's chauvinism and pricked his vanity, she strips the groggy chap of his male identity by puffing him into a frock, applying a lick of lipstick under his cocky moustache and showing him what it feels like to be no longer God's gift to women, but a "woman" discovering what it feels like to be on the wrong side of the age divide.
It's a lesson in double standards that other male film stars, like Eastwood or Connery, could usefully absorb, too. "It's defilement," cries Keitel, looking at himself in the mirror. "It's empowerment," crows Miss Winslet, speaking for her gender.
Holy Smoke is going to be a huge popular hit for the producers, Miramax, and not just with women's libbers. It is Jane Campion's most accessible box-office mix. She co-wrote it with her sister, Anna. It blends Aussie farce, sexual shenanigans and, occasionally, a serious commentary on the dangerous sects around the world who turn free-thinking individuals into obedient zombies. But above all, it represents the fine line that separates an actress of proven talent from an icon of international stardom. Kate Winslet has triumphantly crossed it.

March 30 review by Alexander Walker:
Jane Campion breaks rougher ground than usual. Kate Winslet is a nice Aussie girl doing a gap-year hippy trip to India. Suddenly an old guru she's gone to watch at work for a giggle smites her with instant karma.
Dazed and bewildered by the preposterous priest, she's preparing to stay on as his disciple when her suburban mum (Julie Hamilton) from Sans Souci, Sydney, lures her back home and isolates her in the outback. Here she has to be "exited" from her cult-jolt by a professional therapist (and womaniser) played by Harvey Keitel with a sleaze factor whose depth Sean Penn would envy.
Campion purists have turned up their noses at the rumbustious tug of war that gets literally low down and dirty. But although the sound of this two-hander generates more fury than enlightenment - and the caricature of Winslet's dysfunctional family, watching telly with a trained sheep to ferry popcorn round the living room on its rump, would be thought crude by Barry Humphries - it's invigorating to watch Winslet go flat out, sometimes literally, to tame Keitel, slip him into a frock, lipstick the leer on his face and generally deprogramme his chauvinist attitudes of vanity, misogyny and machismo by savage gender reversal. She holds nothing back - including her own nudity - in a courageous attempt to put on the muscle of her American box-office peers. Though far from persuasive, her performance is an awesome demo of battling feminism turning the male's own weapons against him.


Keitel Clears The Air About 'Holy Smoke', by Harvey Keitel -
It's the personal story that attracts me to a film. That's the ship I sail on as I try to understand my life. And that's why I wanted to work with Jane Campion again, after we had made The Piano. Her films are about the journey we are all on to discover who we are. Getting together with Jane as a friend and companion, I didn't expect lightning would strike a second time - but maybe we found new lightning. In Holy Smoke I play PJ, a role Jane says she wrote for me. PJ is working with Kate Winslet's character Rose, trying to "exit" her from a cult, but he is himself on a journey to rescue his drowning soul. Holy Smoke is about what it is to be a human being, and my goal in it was to be as truthful and honest as I can.
To me, one reason for being an actor is to educate oneself through the work. Something happens when one challenges oneself to go to places that are difficult. There is no other way I know of to arrive at illumination except through ordeal, and that is the journey of the actor.
The films I value, like The Piano and Holy Smoke, have been about the awakenings of people to their need for love - a theme that needs constantly to be reworked. Or making films that explore our relationship with violence has been a big motivation for me. If we don't explore the chaos within ourselves we're going to mask it with something and commit some sort of violence in reality.
Theatre and cinema were meant for us to have a dialogue with each other and instead it all became about making money. In Hollywood there are some people who share the desire to evolve, to invest themselves in the work. But there is no freedom without risk - and the people who control the finances are not risk-takers. The independent cinema is prepared to make films like Holy Smoke more readily.

Interview with Kate, from Popcorn News: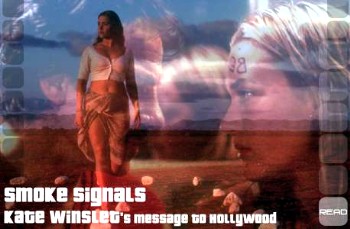 How do you follow the most successful movie of all time? Well, if you're Kate Winslet, you star in a succession of low-budget movies that test both your skills and the patience of the audience who've adopted you as their own.
Although Winslet and 'Titanic' co-star Leonardo DiCaprio have sought out exotic locations for their post-love boat careers, that's where the similarities end. While Leo and his Pussy Posse gallivant around the globe, the 24-year-old actress got married to Jim Threapleton in 1998 and will give birth to their first child this September. She's also been avoiding Hollywood with a passion, preferring instead to work on the likes of first 'Hideous Kinky' and now 'Holy Smoke'.
Roald Rynning and Robin Askew caught up with Kate to talk about her career choices and the hazards of drinking during a screening of 'Titanic'...

Why did you turn down a huge Hollywood film like 'Anna And The King' to do 'Holy Smoke'?

I realised after 'Titanic' that I never want to do that Hollywood kind of back-to-back movie thing - I'd burn out. I think I'd end up an alcoholic and falling asleep under the table if I just did endless 'Titanic'-type films. Also, I wanted to make a film because I loved acting, not because I was becoming a movie star.

So why did you want to do 'Holy Smoke'?

Because I loved the script and the character and I wanted to work with Jane [Campion]. I thought the story was interesting and different. It's a film some will love and others will hate.

Was it a tough shoot?

It was exhausting but I loved it. But it was filmed in Australia and India and I missed Jim [Threapleton, her husband] so much. It was hell and we racked up an enormous phone bill.

What was the most difficult scene to do?

Strangely enough, it was the sweet, youthful ones when Ruth [Winslet's character] is visited by her girlfriends. I found it hard to become girly because I felt so much older than the two other actresses. I wasn't much older than them but I've never really related to people my own age. I don't go out to bars and do other 25-year-old things. I think it has to do with starting work at an early age and spending time alone, depending on yourself and no one else.