Visit here for periodic trips to past 'events'




** Page Under Re-Construction **

More 'event' coverage coming soon!



Quick Links to 'Events':

Coverage of Kate's wedding, November 22, 1998 -

Kate at the 2000 BAFTA (British Academy of Film and Television Arts) ceremony, April 9, 2000:

Premiere of Holy Smoke in London, March 21, 2000

Coverage of the Hideous Kinky premiere in New York, April 1999 and review/ad:




Coverage of Kate's wedding:

"Winslet Marries Her Leading Man," by Daniel Waddell and David Millward -
Kate Winslet, the star of the film Titanic, married Jim Threapleton at her family's parish church yesterday. The couple largely succeeded in keeping secret from the press the venue of the wedding - All Saints Church in the actress's home town of Reading, Berks. Winslet, 23, arrived in a Mercedes with blacked-out windows. Among 150 guests were Emma Thompson, who starred alongside the bride in Sense and Sensibility, accompanied by her boyfriend, the actor Greg Wise. After a 50-minute ceremony, the newlyweds appeared hand-in-hand at the doors of the church and kissed before walking through two rows of guests who threw rose petals at their feet. Mr. Threapleton, a 25-year-old assistant film director, wore a dark frock coat with matching trousers. He mouthed triumphantly to a guest: "She's my wife."
As they drove away in a black limousine to the reception, Winslet taunted reporters who had gathered outside halfway through the ceremony: "We fooled you, we fooled you." However, the big occasion appeared to have had an effect on her nerves. Before the car pulled away she wound down a window and asked a guest for cigarettes. A pack was tossed into the car and, as the pair drove off to an evening reception in a village pub, The Crooked Billet, she shouted: "It's been a wonderful day, I am so happy to be married to Jim."
Best man at the wedding, Robin Threapleton, the groom's brother, said: "The ceremony was a tremendous success and very charming, despite no hymns being sung. Kate shed a tear as she said her marriage vows. We have welcomed her into the family with open arms."


| | |
| --- | --- |
| | The newlyweds came outside The Crooked Billet briefly to talk to reporters. Winslet, looking flushed, said: "It was quite amazing. It was the most amazing day of our lives." Asked by reporters what had been the highlight, she said: "Exchanging of the vows. I think it was an incredible feeling." |
The couple said the reception was going ahead as planned, but Mr. Threapleton added with a smile: "The speeches aren't out of the way yet. It could all downslide very quickly."
Winslet, who looked relaxed and happy, interrupted her husband to say she planned to make a speech. She said: "Unusually I'm going to do a speech. I should really keep my big mouth shut." At that point Mr. Threapleton interjected good-humouredly: "She's been drinking." Questioned about their planned honeymoon, Winslet said it was a secret. She said finally that the reception's main course of bangers and mash had "gone down a treat".
Winslet and Mr. Threapleton, the son of an RAF officer from Ripon, West Yorks, met on the set of the film, Hideous Kinky, in Morocco in August 1997. News of their romance became public earlier this year, when Winslet told reporters: "I love him and that's it." She said, more in keeping with the romantic heroines that are her stock-in-trade: "He is so dashing. I love him. It was an instant attraction. He's very real and so down to earth and we're having such a great time together. He makes me laugh my head off."
He accompanied her to this year's Oscar ceremony, where she received a nomination for her role in Titanic opposite Leonardo DiCaprio. It was the only film in history to earn more than $1 billion at the box office. Last month it was revealed the pair had become engaged secretly during the summer. The relationship with Mr. Threapleton was Winslet's second serious romance. In 1995 she split up with Stephen Tredre, a scriptwriter, who died of cancer last year.
Winslet grew up in Reading with her mother Sally, father Roger, sister Anna, 25, and younger sister Beth, also an actress. After attending St. Mary's and All Saint's Primary School in Reading she enrolled, aged 11, at the Redroofs Theatre School in Maidenhead, Berks. However, the school's principal, June Rose, said that there were few indications that Winslet would become a Hollywood star. She said: "Kate was a very bright student and did exceptionally well at her GCSE examinations. However, we initially thought that she wanted to become a dance teacher."


I have transcribed and done screen captures of the "Entertainment Tonight" coverage of Kate's and Jim's wedding/reception.

| | |
| --- | --- |
| | Co-host Mary Hart: "'Titanic' star Kate Winslet pulled off a titanic surprise over the weekend, saying 'I do' to her real life love in a fairytale wedding. Showered in rose petals, Kate Winslet and her husband, James Threapleton emerged from the parish church of All Saints." |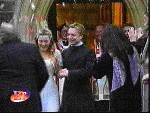 Kate [smiling, to photographers]: "We fooled you, we fooled you."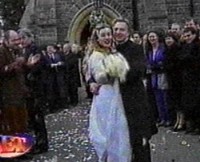 Hart: "The English press didn't find out about the surprise nuptials until they were halfway over. The couple, who have known each other for about a year, met on a film set. The bride wore a luminous silk gown designed by Englishman Alexander McQueen for Givenchy. The dress was covered in antique crystals and rhinestone beads, and she wore a pearl pendant on her forehead. Emma Thompson was among the estimated 100 guests, and Kate's family priest officiated the traditional Anglican service."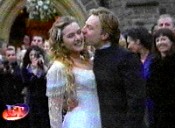 Father Mortiboys: "I baptized Kate, I blessed the marriage of her parents, I prepared her for confirmation, and now I've married her."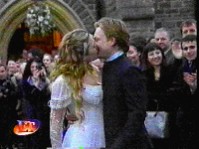 [At one point, Jim was grinning too much to pucker up!]


Reporter [at window of limo]: "How does it feel to be married? Good day for you?"
Kate: "Absolutely wonderful, absolutely wonderful."
Reporter: "Congratulations."
Kate: "Thank you."
Reporter: "Where are you off to now - honeymoon?"
Kate: "Ah, not telling!"
Hart: "The couple then partied the night away at the Crooked Billet country pub."
Reporter Kate Coyne [in newsroom]: "Kate's very proud of being an English girl, and her reception showed that in great measure. She had bangers and mash, which is a traditional English dish. It's really just sausages and mashed potatoes."
Reporter outside Crooked Billet asked for the couple's feelings.
Jim: "Fantastic."
Kate: "It's just, like, amazing, the most amazing day of our lives."
Hart: "Inside, guests danced the same Irish jig Kate danced in 'Titanic,' and the bride admitted the service was profoundly moving."
Kate [as Jim looks at her adoringly]: "Just exchanging of the vows, I think, was just incredible, incredible, really."
Hart: "Congrats to those two."


From This is London November 23, 1998:
"Kiss Me Kate, Says The Groom," by Baz Bamigboye and Anne Shooter -
She is the darling of Hollywood. But there was nothing showbizzy about Kate Winslet's marriage to producer Jim Threapleton yesterday. A low-key, traditional church service in Reading with only two celebrities among the guests was followed by a wedding breakfast of bangers and mash in a pub.
The 22-year-old Titanic star turned down a six-figure sum from OK magazine which wanted to cover the wedding. And though she was beaming as she posed for pictures, her nose was unromantically red from weeping throughout the ceremony.
"Just because people are in the spotlight it doesn't mean they are not ordinary human beings," said Father John Mortiboys, an old family friend who officiated.
And just moments after emerging from the church, Miss Winslet confided that like any bride-to-be she had been having difficulty concentrating on anything else for days. All through a promotional showing of her latest release Hideous Kinky at the London Film Festival last week, her attention was elsewhere. "There were all these international critics and film people there and the last thing I had on my mind was the film," she said. "I just kept on seeing visions of the wedding dress in my head and of marrying Jim. It has been a very difficult few days. But I'm glad we've done it now and we are going off on a honeymoon tonight and then we'll get on with our lives. Both sets of parents have been fantastic and we've looked to them for inspiration. My parents have been married for nearly 30 years and they're still in love, and we hope that we have learned something from them about being together."
Her dress, an Alexander McQueen creation in ivory with hand-sewn antique beads and droplets, was certainly something to dream about. Miss Winslet decided against a veil, opting for a pearl pendant on her forehead, and carried a bouquet of cream roses.
The 24-year-old bridegroom was also dressed by McQueen in a collarless black pinstripe suit.
"I feel absolutely like a princess," said the actress, "and so Jim, of course, has to be my prince. Everything has been wonderful today. I'm so happy I'm married to the man I love. I knew I'd be all right when I felt him holding me. And when the service was over he kissed me and he hasn't stopped."
Most of the congregation of 150 - including close friend Emma Thompson with her boyfriend Greg Wise - had no idea where the wedding was to take place when they left London by coach, so determined was Miss Winslet to preserve her privacy.
In fact, the parish church of All Saints is close to the family home where she grew up, and she stayed beforehand in a hotel nearby. "We spent the night apart," she explained. "We just felt we wanted to do the right thing and be all traditional. I got up at 7 AM and went for a walk by the river. I had a very relaxed breakfast and spoke once to Jim, even though we weren't supposed to talk. I just wanted to know how he was feeling and to tell him that I love him."
Even so, she kept him waiting a full 15 minutes at the altar before walking down the aisle for the 30-minute ceremony with no hymns. She clutched his hand throughout as she struggled to master her emotions.
Leaving the church, they kissed passionately as onlookers showered them with rose petals. Miss Winslet added: "We exchanged two white and gold wedding rings, designed by the same person who made rings for my sister's wedding a few weeks ago."
Father Mortiboys said: "It was a very relaxed and happy occasion from beginning to end and just what they wanted. It was a very normal wedding. Kate rang me several months ago to ask if I could come up from Portsmouth, where I am now based, to do this and I was delighted to accept. I have known her since she was born, I baptised her and prepared her for confirmation, so I was not surprised to be asked."
The reception took place in a marquee at the 17th-century Crooked Billet in the nearby hamlet of Stoke Row. Miss Winslet's Titanic co-star, Leonardo Di Caprio, sent a "best wishes" telegram, as did the film's director James Cameron.
Landlord Paul Clerehugh, 35, who revealed that the actress's family had been popping into his pub "for yonks," said that as the guests arrived they were given mulled wine and champagne. Then came a three-course meal of Emmenthal, tomato and herb tartlets, bangers and mash, and Bakewell tart and custard. The menu was chosen by Miss Winslet. "I guess it is her favourite," he said. Then there was a giant bonfire with fireworks, and music from a four-piece Irish fiddle band, called Drive The Weavers Mad.
The newlyweds' honeymoon plans remain secret... but they are understood to have ruled out a cruise.


I transcribed the following article from Karen's scan of a newspaper article that she e-mailed me, and found the pics on the hotel's web site:
"Now Hotel Boss Can Reveal Showbiz Secret", by Dawn Turnbull -
A hotelier has revealed details of one of showbiz's closely guarded secrets - Oscar-nominated actress Kate Winslet began her honeymoon in the Yorkshire dales. The star married film director Jim Threapleton, 24, from North Yorkshire, on Sunday in a down-to-earth ceremony.
On Monday, the couple booked into Simonstone Hall Hotel, near Hawes, under Jim's surname, where they enjoyed a quiet two-night break.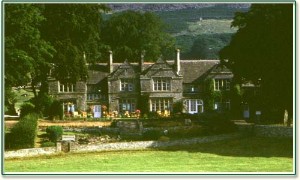 Hotel boss Elaine Jarvie said she had suspicions when a Mr. And Mrs. Threapleton booked in, although she had not been sure it was the 'Titanic' star and her new husband. She said: "When I was reading the paper on Monday and saw the surname I remembered we had a booking under the name Threapleton for that night. When we knew for definite it was them, we asked other guests if they wouldn't mind leaving them to themselves, and they did. They were left to have peace and space. No one approached them and they seemed to have a relaxing, quiet time. They seemed to be very happy and obviously very much in love."
The couple arrived late on Monday night and tucked into a dinner of roast duck at the hotel's dining room before returning to their room, which boasted a four-poster bed and stunning views of the dales. An added surprise was also in store as there were white roses and champagne waiting for them.
The room, at 82.50 pounds for dinner, bed and breakfast per person, per night, had been booked as a wedding present from Jim's parents Edward and Louise. They had stayed at the hotel in October.
On Tuesday the newlyweds went shopping in nearby Hawes and Jim showed his new bride nearby Grewelthorpe, where he grew up. They then returned to the hotel, where they dined in the bar. Jim chose to tuck into bangers and mash for his meal, the same as at the couple's wedding reception, while Kate enjoyed a Wensleydale salad washed down with red wine. The couple then played backgammon in the bar.
Head chef at the hotel, Michael Farnhill is used to cooking for the rich and famous. He used to work at Claridge's in London where he produced meals for celebrities including the Princess of Wales and Robert DeNiro. He said: "I didn't actually meet Kate, but I did see the couple in the bar later and they looked very happy and very relaxed."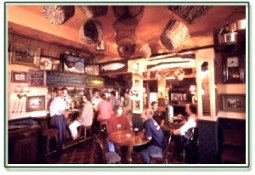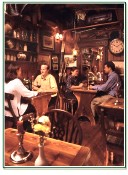 From Yahoo! News / The Daily Record, November 27:
"Titanic Star On Her Bike For Scots Honeymoon" -
Surviving the sinking of the Titanic is one thing, coping with the weather in Scotland in November is quite another. But newlywed Kate Winslet - on honeymoon at a secret location with her new husband Jim Threapleton - had come prepared for the cold.
A bit of brisk exercise is the perfect tonic, so Kate and Jim leapt on a pair of borrowed bikes to tear through the windswept scenery. The pouring rain didn't dampen their spirits - after all, what Scots holiday would be complete without it? One local who saw them said: "They were soaked to the skin by a very heavy downpour, but they didn't seem to care. They were mucking about like any young couple in love. Jim even pulled a couple of wheelies."
When she slowed down, Britian's hottest star kept herself nice and cosy with a bright red balaclava. Her stunning movie outfits were long forgotten as she clumped about in sturdy boots, a chunky jumper and a pair of army trousers.
Kate, 23, and Jim, a 24-year-old assistant movie director, headed north after their marriage in her home town of Reading on Sunday. They arrived at their whitewashed honeymoon cottage in a jeep. It's 10 miles from the nearest shop, but their local hosts had made sure they were well-stocked with provisions. There were no trappings of wealth or fame. Jim got up first thing to collect logs for the fire, then he and Kate set off hand-in-hand for a morning walk before their bike ride. "Jim must have been a boy scout in his time," said the local observer. "It must have been very cold in the house before they got the fire going, but the chimney was soon puffing out smoke and it kept going all day long."
The cottage is set at the foot of a range of hills, with a stream running through the garden. Kate and Jim slept in a rooftop bedroom, with two tiny dormer windows giving glimpses of the stunning landscape. It couldn't have been further from the glamour of Hollywood. But then, that's probably what they both wanted.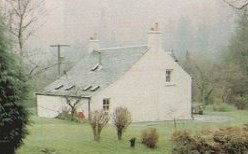 From The Mirror, November 28, 1998:
"Titanic Was Great, But This Is So Much Bigger," by Mark McKivern -
Bride Kate Winslet grimaced yesterday and told The Mirror of teething problems since her marriage last week. But they had nothing to do with new husband Jim Threapleton or their "wonderful" honeymoon on Scotland's West Coast.
A nasty bout of toothache was giving the Titanic star waves of pain, but she's not letting it spoil her happiness. She said: "It has been wonderful. What I have here with my love for Jim is bigger than the Titanic." The 23-year-old actress added: "Titanic was great in that it opened up lots of doors in my career. It meant that everyone seems to know who I am. Jim and I have learned how to deal with that - it's part of our lives. But the change Titanic brought wasn't as big as the change brought by Jim. We have been very close since we met last year, but since we married we have both felt a wonderful bond." She said: "The toothache is awful, but I can honestly say I am still deliriously happy."
Hollywood star Kate and film director Jim have seen their share of tinseltown glitz. But at heart they are a couple of ordinary humans. At their cottage retreat on Scotland's wild and beautiful coastline Kate was at ease in baggy cardigan, Jim comfortable in jogging pants and denim jacket.
Kate said: "We have just come away to relax and enjoy each other's company. We are simply two normal people and we enjoy the same things as other normal people. Look at us - do we look like real people? I hope so. The wedding itself was hard to believe. We expected a fantastic day but it surpassed all our expectations. Jim's brother Robin gave a wonderful speech, which was funny and very touching at the same time. It helped make the day the best of our lives. Everyone cried - even Jim."
They met on the set of Hideous Kinky during filming last October. Jim said: "We got on very well right away. We did a lot of laughing together and we became close very quickly. After Titanic we both knew that life would have its difficulties but Kate has given me sound PR lessons. We both feel the same way about being in the public eye. We are honest people and we have nothing to hide, so we don't feel the need to sneak around. We really appreciate our own company and value our privacy. But we don't share the mentality of those who go to outrageous lengths to avoid the public eye.
"We tried to keep our honeymoon location a secret and were surprised that you've found us - but not really that surprised, I guess. When we were married we didn't mind the press and television cameras. We were so happy and we wanted people to know. Why not? The next day we wanted to read the newspapers - just so we could relive the day."
Kate revealed that she had teeth problems before her marriage. "I had a bit of trouble with a wisdom tooth before the wedding but I thought it would go away. I was so excited I just ignored it. Now one side of my mouth is like a table tennis ball. I have a sore ear as well because whatever is wrong has spread. I may have to look for a dentist in the next few days."
On their honeymoon venue, which The Mirror is keeping secret, Kate said: "This location is simply wonderful, it's unique. We arrived in darkness and woke up to find a misty glen and beautiful forest. It was like waking up in paradise, just what we were looking for."
She first fell in love with the area after a visit with sister Beth, 20, last Easter. She recalled: "We went to Oban just after I finished filming Titanic. The scenery was wonderful and I fell in love with the Scottish landscape then. "I remember we were messing around and I was splashing my hand in the cold water of a loch. I had filmed Titanic and after that experience I knew I could handle cold water. No one else fancied it much, though." She added: "I also think Edinburgh is a wonderful city. I filmed parts of Jude in Scotland and managed to spend time strolling in Edinburgh. We are hoping we will be able to visit again before the end of our honeymoon."
Kate has no intention of rushing into any new projects in the near future. She said: "It's a lovely time for our family and after the work I've done recently I thought I deserved a break. Jim and I intend to spend real time together through Christmas and we don't have any real plans for some time. I'm looking at scripts but we have made no solid decisions yet. Our priorities lie with each other at the moment, life is more important than work."
Jim nodded: "Lots of plans are afoot. We aren't going headlong into anything. We will take a few months to decide on long-term plans. We have been happy so far to jump headlong into our marriage."
And on talk about parenthood, Kate laughed: "The rumours have been rife but we have years ahead of us. So we won't be hearing the patter of tiny feet for a while yet."



Coverage of Kate's appearance at the 2000 BAFTA ceremony on April 9, 2000:

E! New Daily:
[Host Steve Kmetko in studio:] "Kate was on hand this weekend at the British Academy Film Awards.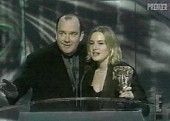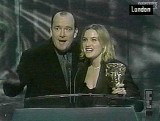 The actress says her pregnancy has slowed her down a little bit, but her cravings haven't stopped."
[Kate:] "I did have a thing about fizzy cola bottles. I don't know why, I think it was the sour, something to do with that, and tomatoes, as well."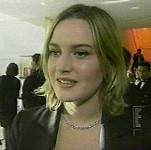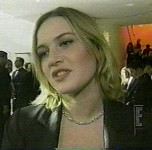 Entertainment Tonight:
The segment began with commentary on Leo's interview of President Clinton for ABC. Kate was asked about it, and she defended Leo.
[Kate:] "He's a perfectly intelligent person, who's well up on politics, so it should be really interesting."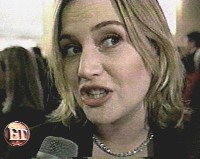 [Host Bob Goen in studio:] "Kate was at the Orange British Academy Film Awards...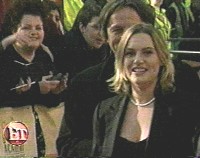 ...where the news was American Beauty's six wins and Kate's pregnancy."
[Kate:] "It's only little, but it's there a little bit."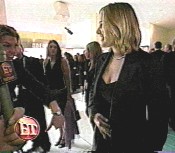 BBC News, April 9, 2000:
"'Normal' Celebrity Mum"
Pregnant superstar Kate Winslet wearing an elegant black trouser suit with floral decoration and a diamond necklace, was greeted with cheers, but there was no sign of husband Jim Threapleton. Asked how it felt to be a celebrity mum-to-be, she said: " I'm just getting on with it. I'm like any normal person. I have the same worries, I have the same excitements. I'm not thinking of myself in that way."

Empire Online, April 9, 2000:
"Spacey and Bening Score For Beauty" -
Sam Mendes' American Beauty swept the board at this year's BAFTAs winning a total of six awards, including the big three - Best Film, Best Actor and Best Actress.
The final award of the evening was the Fellowship of the Academy to Michael Caine, which was presented by Kate Winslet. Caine received a standing ovation from the awards crowd. 'It's an honour to be invited in from the cold,' he said,' I hope I deserve the honour in the years to come.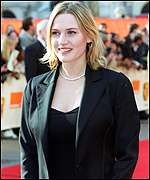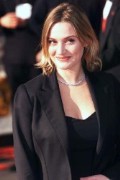 BBC News, April 9, 2000:
"American Beauty Shines at BAFTA's" -
A stream of Hollywood stars including Julianne Moore, Kate Winslet and Cate Blanchett also attended the event, correctly titled the Orange British Academy Film Awards.
Smash hit film American Beauty has repeated its Oscars success by taking six Bafta awards at the UK's most prestigious movie ceremony. The late maverick director Stanley Kubrick and veteran actor Michael Caine were also honoured with Bafta fellowships marking their cinematic achievements.


From The Mirror:

| | |
| --- | --- |
| Making her fourth appearance in five years, Kate Winslet was greeted by cheering fans at the April 9 British Academy of Film and Television Arts Film Awards... As she walked | |

up the red carpet, Kate patted her tummy, responding to congratulations on her new "bump" which she has been anxiously awaiting. Due in the fall, the new mum-to-be was glowing as she sported a black Alexander McQueen dress and jacket with floral decoration, and a 30,000 pound necklace. Asked about her outfit she responded, "I go for comfort every time, me. It's so long."
Winslet presented the Academy Fellowship awards for lifetime achievement to the late Stanley Kubrick and to fellow British actor Michael Caine. She described Caine as "a living legend whose contribution to British cinema is literally unquantifiable." Caine joked "Its very difficult to win an award round here so thank God they gave me one." Caine and Winslet recently worked together in Quills which is based on the play of the same name by Doug Wright and scheduled for release November 2000.
Comparing the BAFTAs to the Academy Awards Winslet said, "The BAFTAs are not the poor relations any more. It's a fantastic turnout. The Oscars may be a little more glitzy, but that's only because they're held in LA. The BAFTAs are more relaxed and people enjoy it more," she added. Kate said her vote for best film would go to American Beauty, adding, "Sam Mendes is a brilliant director anyway. Now he's been recognised directing a great film and directing it brilliantly it can only be good for Britain." Asked how it felt to be a celebrity mum-to-be, she said, "I suppose I am a celebrity mum. I'm just getting on with it. I'm like any normal person. I have the same worries, I have the same excitements. I'm not thinking of myself in that way."

BBC News, April 4, 2000:
"Hollywood Stars Join BAFTA Guests" -
Dustin Hoffman and Faye Dunaway will join Hugh Grant and Kate Winslet as guests at the Bafta film awards on Sunday. The actors are lined up to present prizes at the British film industry's premier awards ceremony, which is being held at the Odeon Leicester Square in London. Other guest presenters will include Shakespeare in Love actor Joseph Fiennes, Naked Gun star Leslie Nielsen and models Elle Macpherson and Naomi Campbell.
American Beauty - which won five Oscars last month - is nominated for 14 awards at the Baftas, including best director for Sam Mendes, who is expected to be at the ceremony. Fellow Oscar winner Michael Caine will be presented with the Bafta Fellowship award on the night. He will also be hoping to repeat his success in the best supporting actor category for his role in The Cider House Rules. Other nominees expected to attend include US actress Julianne Moore, and British stars Ralph Fiennes and Jude Law.
Bafta chairman Tim Angel said: "The calibre of stars attending this year's awards is testament to the stature Bafta now commands worldwide."
Other leading nominees include Neil Jordan's The End of The Affair, which has 10 mentions, including a best actor nomination for Ralph Fiennes. Anthony Minghella's The Talented Mr Ripley is up for seven awards, while low-budget comedy East Is East, is nominated for six awards, including best film and most promising newcomer for writer Ayub Khan Din. Mike Leigh's Topsy Turvy - which won two Oscars - is shortlisted for five awards.



Coverage of the Holy Smoke premiere in London, March 21, 2000:

BBC News, March 22, 2000:
"Pregnant Winslet Steps Out" -
Kate Winslet was at the premiere of her new movie Holy Smoke in London last night, one of her first appearances since announcing her pregnancy. Asked about how she was coping with her impending motherhood, she said: "I've been all right. I was a little sick but I'm fine now." She wore a figure-hugging black leather jacket and tight trousers and joked: "There's no bump yet. I want my bump." Her child is due in September, while Holy Smoke - which also stars Harvey Keitel, is released on 31 March.


From ITN, March 22, 2000:
Kate Winslet is squeezing in her showbiz appearances while she still can. At the opening of her new film, Holy Smoke, the pregnant actress proved her proportions are far less than Titanic by squeezing into some tight snakeskin trousers and a sexy black leather jacket.
It was the first showing of the film in the UK, and Kate's first showing since announcing that she is expecting a child...In Holy Smoke the award-winning star of Titanic plays an Australian tourist who becomes smitten with a guru on a trip to India. It gave her a chance to work with movie legend Harvey Keitel, and Kate says it was an opportunity of a lifetime. "At first I thought it would be scary and would be really intimidating, but he's a really wonderful guy. I loved working with him. He was just brilliant, he's just an amazing actor, he's incredibly professional and dedicated.'"




From The UK Telegraph, March 22, 2000:
"Kate Winslet Admits New Film was a Challenge," By Nicole Martin
Kate Winslet was joined by her husband, Jim Threapleton, at the British premiere of her new film, Holy Smoke, last night. The 24-year-old actress, who last month announced she was pregnant, also attended the screening, at the Odeon West End cinema in London's Leicester Square, with the film's co-writer Anna Campion.
Winslet plays a young Australian who joins a religious cult in India and falls under the spell of a guru. A battle of the sexes ensues after her family trick her into returning home and hire an American counselor, played by the American actor Harvey Keitel, to reverse her brainwashing in a deprogramming session in the outback. She said: "It's a brilliant story, and of all the films I've done it's the one I care about most. It was a real challenge for me. It is by no means a masterpiece, but it's a really interesting movie. I've read articles about it and it sounds as if we've made this steamy, erotic film, but it's not that at all. It's about a young girl on a journey to find her heart."




Coverage of the New York premiere of "Hideous Kinky", April 15, 1999:

Hideous Kinky premiered in New York City as part of a British Film Festival. From the New York Daily News:
Kate Winslet will introduce her new movie, "Hideous Kinky," Thursday night [April 15] at 7 p.m. at the Walter Reade Theater to launch "Changing the Guard: The Festival of New British Cinema." (We trust she made the voyage here by air this time.) The two-week series, which will be followed by a U.S. tour, features the long and short of recent Brit cinema.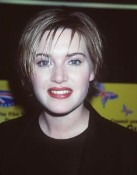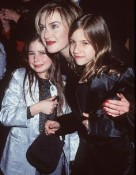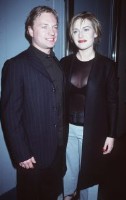 From E! News Daily:

Host Steve Kmetko: "Her place in movie history would be assured because of her Oscar-nominated role in the mega-hit 'Titanic'. But she's not retiring, and she continues to make movies. At Thursday [April 15] night's special screening of her latest film, 'Hideous Kinky', it was as if the 'Titanic' media madness was back."

[Clip of Kate, titled "Leo who?" - Kate signing an autograph - she was more interested in doing a good job on the autograph than in "posing" for the photographers. That's our Kate!] Photographers: "Kate, look this way, please." "Kate, Kate!" She replied, "OK, hold on one second 'cause I can't…I'll end up writing someone else's name."



Steve: "At the 'Hideous Kinky' screening at Lincoln Center's British Film Festival, everyone wanted a little piece of Winslet. The newlywed actress posed with her husband of five months, James Threapleton.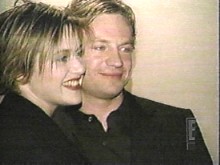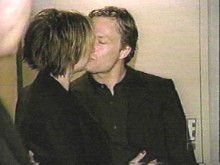 "They met on the set of 'Hideous Kinky' where he worked as Assistant Director. We asked, 'is married life all it's cracked up to be?'"

Kate: "Absolutely, completely normal as anything. We're a regular couple and we have a great time. I think if anything, it's just, you know, a more grounding thing. I think everybody who gets married will say that."

Steve [voice-over; clip of flying scene from "Titanic"]: "An Oscar nomination for 'Titanic' has made Kate a hot commodity in Hollywood these days."

Kate: "It's been, you know, it's been amazing. At first it was all very explosive and then I had to kind of remember to bring myself back down to earth, and, you know, it's very normal, it's very normal."

Steve: "But don't expect another 'Titanic' from Kate just now. Her new film, 'Hideous Kinky' is something completely different."

Kate: "The movie is very exciting. It's almost like a little kind of very colorful road movie. It's a lot to do with kind of family values and how you can raise children in this world and not have to have lots and lots of money to do it, and you can raise them very, very well."

Steve [voice-over; clip of HK]: "Winslet plays a free-spirited mom who tours exotic Morocco with her young daughters. So, does Kate plan to get on the 'mommy track' anytime soon?"

Kate: No…[laughing]…too young, too young, long way to go yet."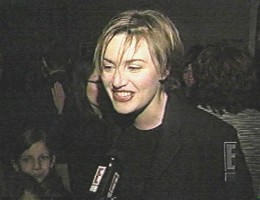 [Either she was "joshing" or a "long way to go" meant about 8 months-LOL.]


From New York Daily News:
She looked delicious at the dinner Interview magazine threw at Indochine in honor of her new film, Hideous Kinky. Winslet couldn't have been cuddlier with her new husband, Jim Threapleton, but said rumors that they're expecting are just tabloid fodder. She also thinks she'll be doing fewer sex scenes now that she's married.


Here's a nice review of the film from Empire magazine:
The popular appeal of Kate Winslet should boost the claims for attention of another beautifully observed work from Gillies MacKinnon, a slight but sweet adaptation of Esther Freud's semi-autobiographical novel. Liberated from the waist-clinching gowns and tragic, watery ordeals of her last four films, a glowing Winslet is delightful, presenting a warm, amusing, touchingly vulnerable and untogether but admirably brave character.
In Marrakech in 1972, scatty hippie Julia (Winslet), wreathed in a cloud of hashish smoke and draped in fetching Pre-Raphaelite kasbah tat, has fled a disappointing relationship and sad cold London, dragging her two little girls along on her quest for spiritual enlightenment and domestic freedom. Raising her two young daughters, six-year-old Lucy (Mullan) and eight-year-old Bea (Riza) on a constant diet of ideals and oranges, however, doesn't appear in any child rearing manuals and Julia becomes ever more torn between her desire for self-actualisation and the ties of responsibility. The children take whatever comes with aplomb and droll word games (the source of the film's title), although Bea is stubbornly sensible and English middle class, demanding a school uniform and longing for the prerequisites of the normal life she has left behind.
Poverty, the elusiveness of the imagined mystical fulfilment, cat fights with the exotic prostitute neighbours, disenchantment and a string of disasters make for a funny, sad and anxious odyssey in a slender, anecdotal tale. Julia's relationship with a charming Arab rogue, Bilal (Taghmaoui) adds sexual heat, charisma and, vitally, some dramatic backbone as his own story of woes and his increasingly dangerous efforts to help Julia and her daughters balances the girlish dynamic.
The two child actors are real finds - enchanting, eccentric and natural, a good match for Winslet who barely looks old enough to have given birth to them. Director MacKinnon nicely delineates the relationships and personalities while evoking a rich and fascinating atmosphere from the sumptuous and colourfully seedy backdrops of Morocco and a trippy 70s soundtrack that includes Love, Jefferson Airplane and Richie Havens. Culture clashes have seldom been more appealing.


Here is one of the ads that appeared in the Los Angeles Times: