Feature on Mick Jagger's involvement with the film, The Express, added February 21, 2001
"Jagger Leads Britain's Crack Team into the Fray," Daily Telegraph, added January 29, 2001
"The 'Enigma' of the Missing Middle-Budget Movies at Sundance," January 28, 2001
"Mick Moves Into Movies," by Roger Ebert, January 26, 2001
"Sundance Loses Its Scruffy Edge," January 25, 2001
"Chilly Reception," Entertainment Weekly, January 25, 2001
"Jagger Leads Old School Filmmakers in Sundance Debut," January 23, 2001
Mick Jagger interview at Sundance FF, January 23, 2001
"Germany Pays For Our Enigma," International Express, January 18, 2001
Film Review magazine's 'preview' of Enigma, added December 22, 2000
Film Review magazine interviews with Kate and Dougray, December 2000
Premiere magazine, November 2000 - with pics
Film Review magazine, Fall 2000 special edition
Flicks magazine feature, August 2000
"Film Financiers Reap Reward of Going Dutch," July 31
"Not Unlike A Rolling Stone," July 30
"Brits Hit Back At Hollywood Lies," July 7
Story about Extras and filming at Quorn, June 7
"Full Steam Ahead For Blockbuster," May 11
"Kate To Star At The GCR," May 10
Production Starts, April 19 Press Release
"Wanted: Lonely Cottage By Loch," February 26
"Jagger Appears To Have Cracked The Enigma Film Code," November 20, 1999




February 21: Thanks to my pal Sylvia of Dougray Scott in Focus for emailing me a UK feature story about Mick Jagger that Missy sent her. Following are excerpts relating to 'Enigma':
Sometime in the next few months (no exact date has been agreed but autumn is likely) Jagger's company, Jagged Films, will release its first feature movie. It has taken six years to finish, during which it has overcome a number of obstacles. But early indications are that it could prove to be a winner.
The film is based on Enigma, the bestselling novel by Robert Harris, a tale of intrigue set among British code-breakers working at Bletchley Park, 40 miles north of London during the Second World War, who are desperate to unravel German U-boat ciphers. It stars Kate Winslet as the plucky operative in the radio room, Dougray Scott as the mathematician struggling to get over a breakdown, Saffron Burrows as the beauty who went missing and caused the maths genius to lose his mind and Jeremy Northam as the intelligence expert who has to work out whose side everyone is on.
Tom Stoppard, who wrote Shakespeare In Love to worldwide acclaim, has taken charge of the screenplay. Michael Apted, fresh from the James Bond movie The World Is Not Enough is the director. Saturday Night Live producer Lorne Michaels was brought in to secure the rights to the book and John Barry has written the music.
All in all, a star-studded production but not one which was achieved without remarkable patience and persistence, for which Jagger and his partner in the movie business, Victoria Pearman, can take a bow. It took longer to make the film than it did for the allies to fight the War but from all accounts it was Jagger's doggedness that pushed the project through. "Of course, it helps if your name is Mick Jagger. Even Hollywood is impressed to find him at the other end of the phone," says novelist Harris, who worked closely with Jagger throughout filming. "But I have been impressed with his determination. There were some days when we were working against the odds but he battled through and kept faith with the project. He's not a fly-by-night operator. He is very focused, very smart."
Enigma is set in 1943, the year Jagger was born. It's not unusual for late to middle-aged men to show an interest in the period surrounding their birth but in Jagger's case it is also clear that despite the rock 'n' roll madness and the paternity suits, he has long been a conservative…
At the Sundance Film Festival, held last month in Utah, he said of Enigma: "It's not just about code-breaking but about love and it's got some underlying moral questions about how many lives can be lost for the greater good." ...
Making Enigma happen had something in common with cracking the U-boat code. It began easily enough when Stoppard took Harris's book out to France, where he was joining Jagger for a holiday. Jagger read it and within months he, Stoppard and Harris were having lunch in a pub near Bletchley Park. "The landlord almost had heart failure when he saw Jagger," Harris recalls. "Later, we went and looked around Bletchley and Jagger was fascinated. He started taking photographs and that was it." After securing the rights, Jagger went to Paramount but the studio dropped the idea. Finally, Intermedia began to raise some money and Apted was hired as director.
Although Enigma is a British film, none of the GBP 19million budget came from Britain. Ironically, given the subject matter, most of the funding originated in Germany. Jagger appears fleetingly in the film, sitting in an RAF uniform beside a beautiful blonde who in real life happens to be his model daughter Elizabeth. Enigma premiered at the Sundance Film Festival and was well received. Screen International described it as "compelling" and "sumptuous" and "unabashedly old-fashioned".
Thirty years ago it would have been inconceivable for Jagger to be remotely associated with anything so old-fashioned - it wouldn't have suited the carefully constructed image. But life moves on - even for a man who became a symbol of something he never really was. "I want to grow up to be a politician," was a famous line from the Byrds in the Sixties. "I want to grow up to be a movie mogul," might have been a fitting chorus for Mick Jagger.


January 29: Thanks to Tamara of Dougray Net for this Jan 27 item from the Daily Telegraph:
"Jagger leads Britain's crack team into the fray," By Simon Davies
British films may have been sidelined at the Golden Globes but they faced no such ignominy at Sundance. The highlight of Robert Redford's independent film festival in Utah was the world premiere of Enigma, a romantic thriller set among the clandestine world of Second World War code-breakers at Bletchley Park. It brings together a roll-call of British talent. The screenplay by Sir Tom Stoppard is based on Robert Harris's best-selling book, the director is Michael Apted and among the cast are Kate Winslet, Dougray Scott, Jeremy Northam and Saffron Burrows.
Enigma, which will be released in Britain later this year, is the first film from Mick Jagger's fledgling company, Jagged Films. The story is set in 1943, when British code-breakers had to crack a U-boat code to avert the annihilation of Allied shipping convoys. They enlisted the help of Tom Jericho, a mathematician (played by Scott). Woven into the historical events is a tale of romance and intrigue.
Jagger, who was at Sundance for the premiere, bought the rights to Harris's book in 1995. "I read it and became fascinated," he told me."The story is set in the year I was born. "Tom [Stoppard] was the only choice. When I visited him, he had loads of books about code-breaking, so I knew he would know a bit about it." Indeed, Sir Tom's script is so masterful that Harris has admitted that it manages to develop some of the character's relationships more expertly than he did in the original novel.
Jagger made a tape of music from the period for the actors to listen to. "It helped set the mood," said Scott, adding that Jagger was "very knowledgeable about the history behind the story."
Both Apted and Jagger decided to add one especially pertinent scene to Enigma. "We talk about the British seamen who died retrieving U-boat code books," said Apted. "We wanted to set the record straight." It may be only one scene, but it is a stinging rebuke to last year's Hollywood blockbuster U571, which had American servicemen finding the code book.
The Enigma team was determined to be factually accurate wherever possible, and many former Bletchley Park staff were consulted. One appears in a cameo. "Their work remained secret until the late Seventies but they want their story told," said Apted.
Production designer John Beard used Chichley Hall, just north of London, as the Bletchley Park exterior and built the code-breakers' huts from scratch. "The biggest challenge was building the 'bombe' machines, because we only had a few pictures to go by," he said. These were the giant code-breaking machines invented by Alan Turing, the mastermind who unraveled Enigma's mysteries. Beard was luckier with the Enigma machines. "I bought one at auction a few years ago, and it is used in the film," said Jagger, "I knew it would come in handy." The "bombe" replicas have now been donated to the museum at Bletchley Park. "They have been trying to make one for eight years but have only got as far as the frame," said Beard. "They won't get all of them, though - I think Mick's got his eye on one for his country house."
Jagger's next projects are a romantic drama about Dylan Thomas and his wife Caitlin, and a film that he wrote with Martin Scorsese about two music business partners whose careers span the Sixties to the present. He also recently co-starred with Andy Garcia in Elysian Fields, due out later this year.


January 28: I found this article, which gives some of the history of bringing Enigma to the screen, in today's issue of the Salt Lake Tribune:
"The 'Enigma' of the Missing Middle-Budget Movies at Sundance," by Sean P. Means
PARK CITY-- So what's a $20 million movie doing in a place like this? That was the underlying question surrounding "Enigma," which at that budget is probably the most expensive movie playing at the 2001 Sundance Film Festival.
There's no question about the movie's quality. "Enigma" is a crackerjack thriller, a tale of the World War II codebreakers in Britain who broke the Nazis' secret-message system and, as a side benefit, developed the first supercomputers. The story centers on brilliant Tom Jericho (Dougray Scott), who left Bletchley Park, England's top-secret intelligence site, because of his obsession with the enigmatic Claire (Saffron Burrows). When Jericho returns and Claire goes missing, Jericho tries to unravel the mystery with the help of Claire's roommate (Kate Winslet) and the hindrance of a top spy (Jeremy Northam).
With high-profile producers Mick Jagger and Lorne Michaels, a best-selling book as source material, a successful director in Michael Apted and Oscar-winning writer Tom Stoppard, "Enigma" would seem like the last movie to need the cachet and industry attention Sundance can bring. And those who annually accuse Sundance of selling out would point to "Enigma" as this year's Exhibit A.
Sure, Sundance is a place for new discoveries, for those Cinderella stories where some movie like "The Brothers McMullen" or "The Blair Witch Project" -- something made for no money but plenty of can-do spirit -- takes the world by storm. But to say "Enigma" has no place at Sundance, that it should serve only striving hustlers who have maxed out their credit cards, is to ignore the state of moviemaking today.
"Enigma" is a prime example. After Jagger and Michaels bought the rights to Robert Harris' World War II spy novel, the film was being developed at Paramount, which commissioned Stoppard and then brought Apted on board. But the studio put it in turnaround -- that's Hollywood lingo for "on second thought, we don't want to." The producers scraped up $6 million from the production company Intermedia, but the producers and Apted decided that wasn't enough. "We said, 'It's a good story -- why mess it up?'," Apted said in an interview here this week. So pre-production was shut down, and Apted went on to his next project -- "The World Is Not Enough," the last James Bond film. "That gave me a bit more muscle," Apted said, enough to persuade British, Dutch and even German financiers to raise the $20 million.
American studios didn't bite, partly because Apted and the producers didn't compromise to pander to U.S. audiences. Stoppard's script doesn't dumb down the mathematics of the Bletchley codebreakers. The characters and attitude are quintessentially British, and Apted rejected the notion of adding American characters. (Some Brits are still smarting over Americans taking the credit for capturing the Nazis' Enigma machines in "U-571.")
Apted passed over more marketable stars for Dougray Scott -- but it didn't hurt that, during the production's down time, Scott completed "Mission: Impossible 2" and raised his profile. Snagging Winslet and Northam also upped the ante. But even after seeing the finished film, as of this writing no studio has picked up "Enigma."
The midbudget movie is becoming an endangered species, Apted believes. Hollywood fluff is getting more and more expensive, with studio films hitting the $100 million mark with increasing regularity. Meanwhile, digital technology is making it cheaper and easier to make independent movies. "You go down both those roads, you are going to be destroyed," Apted said. "Us being here is an acknowledgment of that."
Apted has been struck by the "sort of semicomic" scene of Sundance -- the mix of ski boots and cell phones, the super-rich vacationers and the hardscrabble filmmakers rubbing elbows. "It's a lot of business, with a veneer of recreation," he said. But Apted is impressed with how Sundance picks good and challenging films, regardless of how much was spent to make them. "What this festival honors is subject matter," Apted said, "and the subject matter [of 'Enigma'] is as complicated as anything you see here."


January 26: Thanks to Sylvia of Dougray Scott in Focus for sending me the link to this article:
"Mick Moves Into Movies," by Roger Ebert
PARK CITY, Utah--Mick Jagger is taller than you'd think, thin as a rail, dressed in clothes that were never new and only briefly fashionable. There is a studious unconcern about appearance, as if, having been Mick Jagger all these many years, he can wear whatever he bloody well pleases.
He is at the Sundance Film Festival as a producer. He and Lorne Michaels have produced and Michael Apted has directed "Enigma," a Sundance entry about the British codebreakers at the top secret Bletchley Park facility, who cracked the German naval code when it had 150 million million million possible solutions, and then cracked it again after it was improved to 4,000 million billion solutions.
He wanted to get into film production, he said, because "I got rather bored with people trying to involve me in their projects and then the projects would fall to pieces. I thought, well, wait a minute, if I'm interested in this, I should start doing the things that I'm interested in, and not the things other people want me to do."
In the movie business, it helps to get a project financed if a big name like Jagger's is "attached" to it. Better to attach himself to his own project and eliminate the middle men.
"Enigma" is based on a best-selling novel by Robert Harris, a riveting read, long unfilmed because it's not exactly cinematic to show a lot of mathematicians sitting in a room drinking coffee, smoking cigarettes, thinking hard and writing on yellow notepads. "It's very hard to do a movie about intellectual activity," Jagger mused. We were sitting in an upstairs room of a bar named Gamekeepers, drinking mineral water. "It's even hard to do a movie about painters. What are they doing? Painting. This could have been a movie about guys sitting in rooms with pencils.
"Fortunately, in the real-life Bletchley Park, they invented a way of decoding the Nazi signals using a kind of mechanical computer. They built these things called bombs where you put instructions in and the machines would click away. The man with a pencil would make a calculated guess what the code was, and then the bomb would go through the permutations and say yes or no."
Luckily, however, "Enigma" is about more than computers. It is also about romance and betrayal. The film stars Dougray Scott as Tom Jerico, the brilliant mathematician who has returned after a nervous breakdown, Saffron Burrows as the beautiful war worker who caused the breakdown and then went missing, and Kate Winslet as the plucky operative in the radio reception room, who transcribes the German signals and helps Tom solve the mystery of the code and the missing woman. Jeremy Northam is the British intelligence operative who wonders if all three are spies.
"It's not just about code-breaking," Jagger said, "but about love, and it's got some underlying moral questions also about how many lives can be lost for the greater good." Hearing Jagger say things like that is tricky because you have the rock 'n' roll persona in your mind, and the person sitting across from you speaks in a well-educated British drawl, like someone on an upmarket talk show. I mentioned that I'd seen the Rolling Stones at the Double Door in Chicago, in a warm-up performance the night before one of the Stones' most recent concerts at the United Center.
"That was a nice night," he said. "That was one of those nights when it all goes nicely." He seemed to be describing another person in another life.
Michael Apted, the director of "Enigma," "is an old friend," Jagger said. "I knew him from years ago. He's a well-known English documentary filmmaker, as well as a feature filmmaker. We had meetings with him, and he seemed right for the job, and then he got this offer to do the last Bond movie, so we had a hiatus of a year while he did the Bond movie, and so we had to keep the whole thing waiting."
The screenplay is by Tom Stoppard, famed playwright and screenwriter ("Shakespeare in Love"), and a formidable force when crossed. "Tom's an old friend of mine," said Jagger, who has excellent taste in old friends, "and since this is an intellectually challenging story, I thought he would suit it. But everyone else was kind of afraid of Tom, intellectually. He's not a mean person, but he's not a person that you can make mistakes with. If you go in and say, 'Scene 38B is not really working,' you'd better know why it's not working. Everyone was afraid to do that. So that was my job. To say what I would say to any writer, because if it's not working, it's not working."
Have you had any fun at Sundance? "No, I came here last night, and I went to a party where Macy Gray was supposed to be singing. She wasn't there. I had a few drinks and left. That was my Sundance experience."
Will you see any movies? "I have to go back to Los Angeles tomorrow. I do go to Cannes quite often for a couple of days, to see what movies are around. And I was at Venice [film festival] this year. It was fun."
Jagger said his company has two other projects in the works, one by Martin Scorsese called "The Long Play," about two guys who grow in the music business over 30 years, and the other based on the poet Dylan Thomas' life and marriage.
He hasn't starred in many movies, but people still talk about his androgynous druggie rock star, playing host to a gangster on the run, in Nicolas Roeg's "Performance" (1970). "I saw it on television not long ago," Jagger said. "What I found interesting was the social observations that were being made and the use of documentary-style footage. It was really quite ahead of its time. It's a good movie; I think it holds up."
He had another dramatic role in 1970, "Ned Kelly," about the famous Australian outlaw. I asked him if he had read Peter Carey's new novel about Kelly. "People have told me it's fantastic."
So maybe your company would return to Ned Kelly for another movie? "I think I've done my Ned Kelly years."


January 25: Here's a feature story about Sundance, with some comments from Enigma director Michael Apted (thanks to Sylvia of Dougray Scott in Focus!):
From the NY Times News Service - "Sundance Loses Its Scruffy Edge," by Rick Lyman
The British film director Michael Apted sat in a coffee shop on Main Street here, trying desperately to get a cup of tea, while across the street at the Egyptian Theater his latest film, Enigma, was in the middle of its second Sundance Film Festival screening. "Everything seems to be going well,'' Apted said. "Now the feeding frenzy begins. We hope.''
Mirroring the changes in the American independent film movement that it helped create, Sundance is a film festival in transition. The jampacked parties with sadistic doormen are still here, and the hot-air buzz and the leather-clad celebrities, but rarer these days are the ragged, unsophisticated filmmakers rolling in from the hinterlands with a fresh, raw vision to unleash. Now everyone is wise. Cool savvy rules the day.
The bidding wars over film rights that once turned untested directors and unknown actors into overnight sensations also appear to have faded from the scene. "I feel pretty pleased,'' said Geoffrey Gilmore, the festival's programming director. "It feels as though everything is running very smooth this year and the films are generally being responded to very well. Yes, there is a cautiousness on the part of buyers, but I understand there are something like eight films in some stage of negotiations so I expect the acquisitions will pick up before the festival is over.''
The films being shown are also changing. Now there are films with extensive special effects, smooth production values, complex animation and, increasingly, major stars. Apted's Enigma, a $20 million World War II thriller set in the world of Nazi code-breaking, has a Tom Stoppard script that is based on Robert Harris' best-selling novel and a cast that includes Kate Winslet, Dougray Scott and Saffron Burrows. This is a Sundance film? "If you define independent film as a film that was produced outside the studio system, then yes, this is an independent film,'' Apted said, tea finally in hand. "I recognize that with a $20 million budget, big stars and some special effects, it's not your typical Sundance film. But they asked us to be here and we're delighted.''
Gilmore said he expected to be criticized for including such a movie, but he believed it indicated one way that independent film has been changing in recent years. Robert Redford, who founded the Sundance Institute 20 years ago, was not able to attend this year's festival because he was in Morocco and England shooting a film. Being absent was difficult, he said in a telephone interview from London on Wednesday, but he planned to be back in Utah for the institute's annual festival postmortem in a few weeks, where decisions are made about where independent film is heading and how Sundance must adapt to match it. "Things are changing,'' Redford said. "What with digital filmmaking and the Internet and the economy going this way and that way and the globalization, it's all having a real effect on independent filmmaking. Our commitment is to continually adjust, to try to make sure we recapture our original vision. Sometimes the attention focuses too much on the fashion or the celebrities or the acquisitions, but what we are concerned about is providing a forum for the best independent work that's out there.''
Apted's film was financed, in large part, by Intermedia, the German film company, and Jagged Films, owned by Mick Jagger. But, like most of the films at Sundance, it has no distributor, which was why Apted was hoping for a feeding frenzy.
One quality that distinguished past Sundance festivals, particularly ones in the late 1990s, was the intense competition among specialized-film distributors trying to lock up the hot films, often paying millions of dollars for the privilege. The specialized-film business has been going through a painful transition of its own, with more films competing for the same number of art-house screens and fewer breakout smashes like The Blair Witch Project in 1999 or the current Crouching Tiger, Hidden Dragon. Many, many more films have opened, failed to find an audience and disappeared in the blink of an eye, including some that were bought for a great deal of money at Sundance and other festivals.
"Last year was a key year for the festival,'' said Ted Hope, a founder of Good Machine, a film production and distribution company based in New York. "It was the first year that there were no major bidding wars for any film.'' It is, he said, a matter of economics: If an independent film in the current climate makes $5 million at the box office, it is considered a success, and the films that make above $10 million are fewer and farther between. "You buy the movie, and then you have to spend another $5 million to get it released,'' Hope said. "So add up the numbers. Why is anybody going to come up with more than a couple hundred thousand dollars to buy a movie here?''
A few hundred thousand dollars may sound pretty good to the average working stiff, but it is pocket change compared with the millions that many Sundance movies were drawing a few years ago. "People are being cautious before they bid on a movie, but they are also facing up to the marketplace realities,'' said Mark Ordesky, president of Fine Line Pictures. Last year Fine Line paid the festival's highest acquisition price, an estimated $4 million to $5 million for the British comedy Saving Grace, but this year it has yet to bid on anything. "Look at Sundance history,'' Ordesky said. ``The number of films that have gone north of $10 million is a very short list, but the number of films for which millions were paid but which made nowhere near their purchase price, that's a very long list.''
The acquisitions market has been quite sleepy at the festival so far. As of midday Wednesday, only two films had been acquired for distribution, a comedy about inept highway patrolmen called Super Troopers, purchased by Fox Searchlight, and a police comedy from the director Tom DiCillo called Double Whammy, bought by Lions Gate. Other films were expected to be picked up by week's end, but the pace is far behind last year's festival, when more than a half-dozen films had been acquired before the end of the opening weekend.
Among the films said to be arousing interest among distributors this year were David Siegel and Scott McGehee's Deep End, Todd Field's In the Bedroom, a high-school football documentary called Go, Tigers!, and an unflinching portrait of a young white supremacist called The Believer, which was drawing particular notice for its central performance by a newcomer, Ryan Gosling.


January 25: Thanks to Tamara and Dougray Net for this item from Entertainment Weekly:
"Chilly Reception," by Chris Nashawaty - Sundance audiences are still searching for a hit. New indies with Drew Barrymore and Liz Hurley make their debuts
Every year, in the woozy, hazy wake of New Year's Eve, London's notorious bookmakers take odds on the potentially seismic events for the coming year: whether Britney Spears will be with child, Prince William will be crowned king, or, for the lucrative trifecta, Britney Spears will bear King William's heir. In mid January, a similar sort of crystal ball gazing goes on regarding the scores of independent films about to be unspooled at the Sundance Film Festival. But as screenwriter William Goldman once said about his Hollywood paymasters, ''No one knows anything.'' And judging from the early buzz I heard from a smattering of indie studio acquisitions folks before heading here this year, Goldman couldn't have been more on the mark.
Here are a few of the early buzz magnets -- and how they're actually faring at Sundance 2001.
''Donnie Darko'' -- a surreal coming of age in suburbia fable about a high school kid (played by ''October Sky'''s Jake Gyllenhaal) who receives a visit from an imaginary 6 foot tall rabbit foretelling the end of the world. This one was high on everyone's list -- and hey, with a huge, creepy bunny and costar/ producer Drew Barrymore, why wouldn't it be? But reaction seems to be mixed at best.
''Double Whammy'' -- an offbeat comedy starring Denis Leary as a bungling homicide cop and Elizabeth Hurley as his chiropractor/ love interest. The cast, plus Sundance alum Tom DeCillo (''Living in Oblivion'') behind the camera, made this an early pony to bet on. But again, the reaction has been lukewarm. (Even so, Lion's Gate grabbed distribution rights for $1 million.)
''Enigma'' -- director Michael Apted's WWII thriller about a British codebreaker (''M:I2'''s Dougray Scott) who gets caught up in a byzantine murder plot. The audiences in attendance at the ''Enigma'' premiere were all geeked up that the film's producer, Mick Jagger, was in the house. They seemed slightly less jazzed by the film itself.
As is always the case at Sundance, the movies that generate heat in the second wave of buzz (that is, when live humans too sleep deprived to put up with much b.s. have actually had a chance to see them) are seldom among the early frontrunners. For example, I just got back from the premiere of Richard Linklater's animated flick ''Waking Life'' -- a film that didn't seem to have anyone worked into a tizzy before the fest. But the same Sundance audience that witnessed Linklater's debut, ''Slacker,'' 10 years ago, stood up and gave the director a standing ovation as the end credits rolled.
Another pair of movies I heard bupkis about before coming here were Henry Bean's ''The Believer,'' an intense drama about a disarmingly intelligent neo- Nazi skinhead who just so happens to have been raised as a Jew, and Chris Smith's funny and poignant documentary ''Home Movie,'' a nonfiction look at five people -- some of them couples -- who've chosen some bizarre places to call home (one has transformed an abandoned missile silo into a dream house).
The point, I guess, is that buzz is a bunch of hooey. Follow it and you'll most likely miss out on those great films that slink into Sundance under the radar. If you bet on the buzz, you'll not only lose money, you'll have to hock your car to get home. Me, I think I'll stick with the Brits and take the over under on the Britney- Prince William love child.


January 23: From Reuters:
"Jagger Leads Old School Filmmakers in Sundance Debut," by Bob Tourtellotte
PARK CITY, Utah (Reuters) - The Sundance Film Festival may be a mecca for young, independent filmmakers, but this year a couple of old school directors and pop culture icons led by 57-year-old rocker Mick Jagger have come here with their own movies that couldn't find Hollywood funding.
Jagger was promoting a Second World War spy thriller, ''Enigma'' that he co-produced with Lorne Michaels, creator of television's "Saturday Night Live.'' The British film is directed by Michael Apted, whose credits date from the 1960s up to the 1999 James Bond movie, "The World is Not Enough.''
…And while young filmmakers and actors like John Cameron Mitchell of rock opera "Hedwig & the Angry Inch,'' or Eric Bana in Australian drama "Chopper,'' may be getting a lot of buzz in this mountain town east of Salt Lake City, it was Jagger who drew frenzied crowds to the "Enigma'' premiere on Monday night.
"Enigma'' tells the story of British mathematicians housed at Bletchley Park, north of London, who were responsible for decoding messages sent from German headquarters to bases around the world and U-boats hunting merchant ships in the world's oceans. Enigma was the name of the machine used by Germans. It weaves a tale of espionage into a romance between the lead mathematician, played by Dougray Scott and a Bletchley clerk, played by Kate Winslet, as the group races against a four-day clock to crack the German code and save a U.S. convoy of ships from being torpedoed on a voyage across the icy Atlantic.
For filmmakers just starting out, it may seem unbelievable that "Enigma,'' backed by the likes of Jagger and Michaels and starring Winslet, Scott and Jeremy Northam, could be considered in the vein of independent movies most of which are made on a shoe-string budget. "It doesn't have a distributor, it's not from a big studio. It's made with independent money and in England'' Jagger told Reuters in a staunch defense of its roots.
Fresh Start For Careers - Michaels and Apted defended the "indie'' label, too, for reasons that included their desire to control production and maintain a distance from Hollywood studios who might change the ending or put an American star among the British cast to pump up its box office power. Indeed, Paramount Pictures passed on the script, written by Oscar-winning Tom Stoppard ("Shakespeare in Love"), fearing it was too complicated a story and might be too expensive, according to Apted. He said the film cost around $20 million - less than one-half the average cost of a major studio film.
The film, too, took five years to finally come to life after Michaels and Jagger, over dinner, decided to buy rights to the best-selling novel on which it is based. It met with many hurdles including the last-minute exit of one actress, which is when a pregnant Winslet stepped in. "For all of us there were so many ups and downs,'' said Michaels,"so many phone calls and so many meetings, and that is the independent world.''
Jagger said he'd been looking around for movie projects for quite some time, and this was among the first he found interesting. There are more to come down the road. "I've always been interested in film, and I thought I should just get on with it and start to be the person who starts generating the projects rather than just being involved down the line,'' he said. "Why don't I start from the beginning.'' And ahead of the premiere of his first major production, the legendary rocker who has performed in front of millions of screaming, yelling fans over the years, admitted to Reuters that he was a little nervous in his first trip to Sundance.
David Seltzer, too, was seeking a fresh start in what he called ``the shackles of a lifetime,'' writing and directing to meet the conventions of big-time Hollywood moviemaking. "The business I went into evaporated, and that was the business in which a movie was made because it had a good script,'' he told Reuters in an interview ahead of the "Nobody's Baby'' premiere here on Thursday. "The whole idea of doing a low budget, indie film is an attempt to creatively free myself.''


January 23: Mick Jagger speaks about Enigma and finding a distributor at Sundance:
"Jagger Journeys Into Film Producing," by David Germain, AP Movie Writer
PARK CITY, Utah (AP) - Mick Jagger, independent filmmaker, sounds like any other producer at the Sundance Film Festival when he talks about the obstacles to capturing his story on celluloid. There are the problems of raising the cash, securing the film rights, lining up suitable talent to direct and act. "I wanted to spend five years of my life producing one independent movie,'' Jagger jokes when asked why he tried his hand at making films with the spy thriller "Enigma,'' which premiered Monday night at Sundance. "We had to spend lots of time getting the script right and raising the money, everything else that goes with making a film,'' the Rolling Stones singer said in an interview before the premiere.
"Enigma'' stars Dougray Scott, Kate Winslet, Jeremy Northam and Saffron Burrows in a tale of romantic intrigue set among British code-breakers trying to unravel German U-boat ciphers during World War II. Directed by Michael Apted ("The World Is Not Enough"), the movie is a thinking man's cousin to last year's "U-571.'' It's based on the novel by Robert Harris, with a screenplay by Tom Stoppard ("Shakespeare in Love").
This is the first finished movie by Jagged Films, the company Jagger and his producing partner, Victoria Pearman, formed in the mid-1990s. "Saturday Night Live'' producer Lorne Michaels joined them on "Enigma'' and worked with Jagger to secure the rights to the book.
While the project began as a studio film, the producers said they realized they needed to produce it independently to keep it true to its roots. Unlike "U-571,'' which made American sailors the heroes of Allied efforts to crack the U-boat codes, "Enigma'' sticks to historical facts, with the British leading the deciphering effort.
"This was not an easy sell,'' said Jagger, who has acted in such movies as "Freejack.'' "It's an English movie without American actors and actresses. It's a difficult subject, and it's a relatively difficult ride.''
Despite his and Michaels' fame, Jagger said "Enigma'' came into Sundance much like any other independently financed film, with the producers hoping they could land a distribution deal. "I figure that in a way, Sundance is sort of changing,'' Jagger said. "It's not only unknown filmmakers anymore who bring films up here. Ours has got big-name people in it, but it's still an independent movie.''
…"Enigma'' entered Sundance as one of the hottest films available for acquisition. Jagger and Michaels said they were confident they would leave the festival with a distribution deal. "We think obviously we're going to have a buyer, but it's interesting to see who in the movie industry thinks this is an interesting film and who says, 'Oh, we can't deal with it,''' Jagger said. "This is an intellectual film.''


January 18: I found this article in the Jan 16 issue of the International Express:
"Germany Pays For Our Enigma," by John McEntee
The forthcoming 15 million (pound) film adaption of Robert Harris' patriotic thriller Enigma, about British Second World War heroes breaking the Nazi code, has, ironically, been funded by German money. The film, starring Kate Winslet and Dougray Scott - who play lovers working at code-breakers' HQ Bletchley Park - is a response to Hollywood's historically inaccurate blockbuster U-571, showing Americans capturing the first Enigma encoding machine from a German U-boat. However, Enigma's director, Michael Apted, is exasperated by the lack of homegrown investment for the film, produced by Mick Jagger, scripted by Sir Tom Stoppard and described by one critic as "British in virtually every respect." He says, "What's distressing is that there is not a penny of English money in it. There's a lot of German and Dutch money. Here's a film about England beating Germany in the war… and Germany paid for it."
Apted, 59, director of Bond movie "The World is Not Enough", goes on: "I've always loved the Second World War… it makes me proud to be British. It was a moment of staggering heroism when the British stood up against the Nazis." But getting the film onto the screen hasn't been easy. After a major bidding war in the late 1990's, Jagger - who owns an original Enigma machine used in the film - acquired the rights and Stoppard was hired to write a draft of the screenplay. Apted then came on board and persuaded London and LA-based company Intermedia to back it. The finance, however, could only be raised in Europe.
Apted originally wanted to cast Johnny Lee Miller from "Trainspotting", but he wasn't considered a big enough star. Only when Scott, the baddie in "Mission: Impossible 2", came on board did the money fall into place and, Apted adds: "At last we had a British actor with some muscle. Things started to heat up."
The film is due out this spring.


December 22: Wonderful Sylvia of Dougray Scott in Focus emailed me this article from Film Review magazine's special issue, 'The Essential 2001 Preview':



December 6: Thanks to my great pal Sylvia of Dougray Scott in Focus, here are nice features on Kate and Dougray from Film Review magazine:
"Mystery Machine - She is kind of a true heroine," by James Mottram
She may have abandoned one sinking ship, but Kate Winslet isn't about to pull the same stunt on the British film industry. James Cameron's Titanic made her a huge star, but her subsequent refusal to ship out to Hollywood, preferring to perform in a number of home-grown movies, is to be commended. After Gilles McKinnon's Hideous Kinky -- via a brief sojourn to Oz to feature in Jane Campion's Holy Smoke -- comes Philip Kaufman's Marquis De Sade story Quills and Michael Apted's WWII code-breaking story, Enigma.
In the latter, Winslet plays Hester Wallace, a cog in the war effort to crack the German enigma code. With her character expanded considerably from Robert Harris' best-selling novel, Winslet sees her role as a central one. "In the film she is very much one of the sort of front runners. She is kind of a true heroine of the story as well at the end of the day because she's very much involved in the code breaking along with Tom Jericho [Dougray Scott]. And she is good. At Bletchley Park she is employed below her level of intelligence. She never actually gets to break any codes herself. Throughout the story of the film she gets involved with that."
Enigma, along with Quills, also continues Winslet's tradition of snagging plum period roles, a trait that kick-started her career after the triple-bill of Ang Lee's Sense and Sensibility, Kenneth Branagh's Hamlet and Michael Winterbottom's Jude. In this time, Winslet has become an unwitting spokeswoman for contemporary women; this outspoken nature emerges when I ask if she believes the time period of Enigma was a better one for her own gender. "I think society was a lot nicer," she says. "And during this period, it was so attractive for women. The fashion, clothes, hair, were absolutely gorgeous. Society towards women and how women look or should look is completely screwed up now. The great advantage is that woman are now allowed to have big boobs. All women want big boobs, so it's like, finally they are realizing that we're supposed to have boobs. And beneath the large boobs, we're supposed to have stick thin bodies. This is driving me crazy."
Shot in England and Holland, the film was made while Winslet was pregnant with her first child with her husband, the director Jim Threapleton. The Reading-born actress admits life wasn't easy filming while undergoing changes to her body. "You get pregnant and you see nothing, then you get to four months. Then everything starts getting different. You don't have any kind of bump. You just look fatter in an odd way. You gain all the weight in the middle, your waist line goes in, you have no stomach muscles anymore. That's very difficult to dress." Since completing the movie, Winslet gave birth to a baby girl this October, which she named Mia.
Now 25, Winslet intends to spend the remainder of the year at home, bringing up baby, before she begins work on her next project, Therese Raquin, an adaptation of the Emile Zola novel. To be directed by David Leveaux, Winslet calls it "a wonderful, kind of bizarre crime-of-passion story", but is happy to admit that she partly took the role because it will be shot in Britain -- where she will be able to remain close to her new-born child. "I'm raised in the real belief that this is what women are meant to do," she says. "I do have two sisters and a brother and I think we're going to have more children."

"He's a Sort of Accidental Here," by John Millar
Dougray Scott chucked when Film Review wondered how he had shaped up in the maths class during his school days at home in Glenrothes, Fife. The reason for the enquiry was obvious, since in the World War II drama, Enigma, he plays a mathematics wizard who helps break the Nazis' secret code. "No, maths was not one of my subjects at school, but I was pretty good at arithmetic," he replied, meaning that the Scots star, whose profile has soared since playing the baddie who battered Tom Cruise in Mission: Imossible 2, wasn't all at sea in the world of numbers.
But Dougray still felt that some intensive homework was required before he could get under the skin of his latest big screen character, so he went off to Bletchley Park, the home of those war-time boffins, to immerse himself in the business of code-breaking.
"I did five months of research before we started filming," said Dougray. "I spent a huge amount of time going through the mechanics of the Enigma machine. I met a lot of mathematicians at Cambridge to find out the brain power that you would need to break a code. It was very demanding work but one day it all just seemed to click in my head and I could see it all clearer than ever. I knew how to play this character. I suppose all that research now means I will be better at crosswords, because you start to think cryptically." Naturally, Dougray also poured several times through the Robert Harris novel on which the film is based. "Harris has been down on the set," he said with a grin. "And he loves it, he thinks it's amazing."
Dougray added that director Michael Apted -- who helped the last Bond hit The World is Not Enough -- was the perfect man to make Enigma. "Michael and I worked together very closely on the five months before we began filming. We talked about the script and aspects the character we wanted to show and the direction in which we wanted to go. It has been a fascinating process for me."
It wasn't all cerebral acting for the slim Scot -- who has got even skinnier for the role since his character is supposed to have suffered a breakdown -- Dougray also got a fair chunk of action scenes in the movie. "He's a sort of accidental hero," he said during a break in filming Elstree Studios-- they make East Enders round the corner. "You couldn't believe that he is a person who would quite naturally chase after someone and save the nation. But because of the situation in which he finds himself he has to become a fighter."
The Scot also praised his leading lady, Kate Winslet. "It is not an obvious character for her to play, but Kate is magnificent. She is a beautiful, courageous and intelligent actress." Interestingly, although Dougray was the film makers' first choice to star opposite Kate Winslet, he didn't leap at the offer straight away. He remained cautious after he was sent the script for Enigma while he was still shooting M:I-2 with Tom Cruise. "This kind of film, after all, means a big commitment, all those months of research and then three months of filming," he explained. "So I looked quite deeply into the story because I needed to find out what I would be getting myself into. But the more I found out about this story, the more intrigued I was and I knew I had to do it. So as soon as we had wrapped on Mission I agreed to do Enigma."


October 13: I scanned this article from the November issue of Premiere magazine: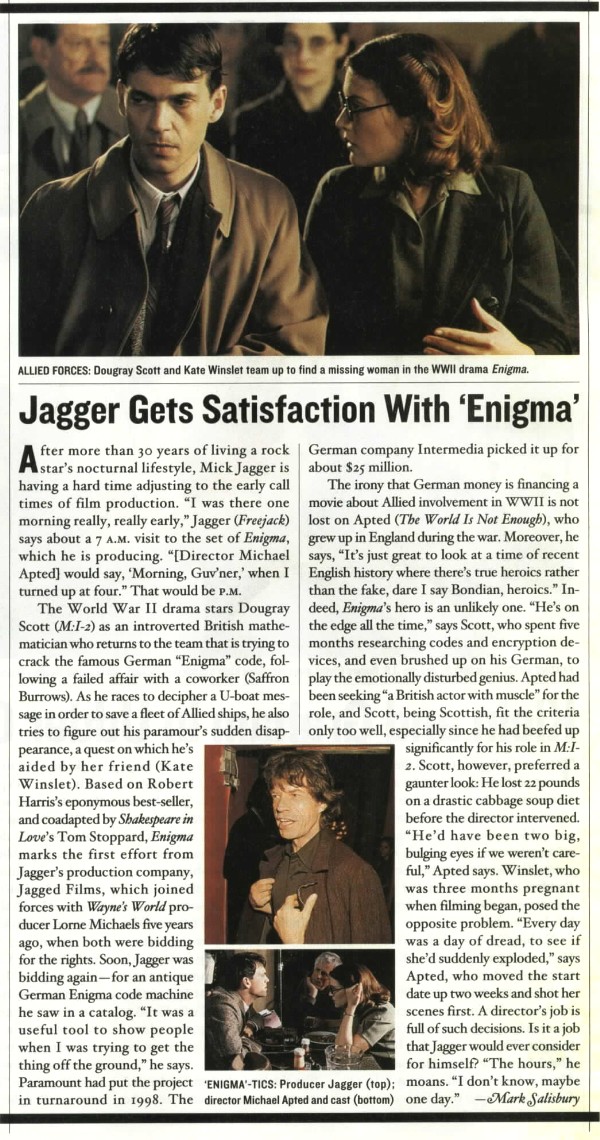 From Film Review magazine (Special issue #32):
"The Essential Guide to the Best of British Film," by John Millar
After the, erm, inaccurate World War Two drama U-571, Brit director Michael Apted sets the record straight with the forth-coming Enigma.
Apted's Aptitude - Michael Apted has been cooped up all morning in a sound stage at Elstree, directing one of many intricate sequences in the Nazi code breaking drama, Enigma. So he welcomes the opportunity to take lunch in the sunshine and explain how the brilliance of Bond helped breathe life back into his latest movie.
It was towards the end of a carefully planned shoot - for the first five weeks Apted had to concentrate his cameras on Kate Winslet before she became too pregnant to work - of a film that the director has wanted to make for more than four years.
And now here he is with his leading man, Dougray Scott (Kate had completed her scenes) fulfilling his desire on a film that's produced by Mick Jagger's company, Jagged Films. Yet just a couple of years ago it had seemed that Enigma, based on the Robert Harris bestseller, was destined to be the film that got away. "I have been on this film a long time, for three or four years," reflects Apted, at work on his first production since the international success of the last Bond romp, The World Is Not Enough. "We had one go at trying to do it a year before The World Is Not Enough, and we failed to get enough money to make it properly. We couldn't really cast it satisfactorily to raise money and then it died and I went off to The World Is Not Enough. When Bond started that upped my credibility and suddenly money became available in Germany and that swung it over." Apted smiles at the irony that it has been German cash, which is bringing the story of a British World War II triumph to the screen. "It's ridiculous and yes, it is hard to believe, but there you go. The Germans were the first people to jump for it. Very ironic."
There is just as much irony in a director like Michael Apted making not only an 007 adventure but a tremendously successful one, because his previous body of work - films that include Triple Echo, Stardust, Agatha, Coal Miner's Daughter, Gorky Park, Gorillas In The Mist, Thunderheart and Extreme Measures, did not suggest a fondness for the secret agent adventure genre. But, as Apted pointed out, he had grown up with the catalogue of Bond films. "It's part of my life," he had said when we met during filming of The World Is Not Enough at Pinewood. "My job is to keep what has kept Bond going over the last 18 films and maybe add something a bit different. We spent months trying to get the story and structure in decent shape before we started. "You don't want the things to become old-fashioned and stale, so it's got to have fresh injections. That's a tightrope that everybody has to walk."
At Elstree, he returns to a circus analogy - suggesting that his new movie requires another high wire performance - when he compares working on Bond and Enigma. "I'm more used to doing this type of stuff than I was the Bond film. It was more the exception than the rule. But there are different pressures; the material is more dense and more difficult. You also have the pressure that there is not enough money, not enough time, so you are always up against it and pushing along. Whereas with Bond there is not an infinite amount of money but a more relaxed attitude to how many days you can shoot and what equipment you can have because it is bigger game.
"The difficulty with this film is trying not to make it too dense. That is something that is going to be exercising me and concerning me until I deliver it. That is the tightrope of the film. This film is about mental gymnastics. It has to have a certain density to it; you can't trivialize what these people are doing and yet you don't want to un-complicate the story so that it is too easy. On the other hand, it can't be so complex so that you don't understand it and lose interest with it. So that is the high-wire act that I have to perform.
"Now I'm gathering material and I'll begin to see how the emotional side of the film and the more cerebral film can balance off with each other. I'll see how much the cerebral side of the film an audience can take."
Possessed of a gentlemanly demeanour, Apted refuses to get drawn into a mud fling on the issue of the American war-time adventure, U-571, which blatantly - and wrongly - tried to claim the capture of the Enigma machine as a victory for the Stars and Stripes. The tall, well-mannered director offers the opinion that the surfacing of U-571 has been good for their production of Enigma. "In some ways, I wish we could have come out nearer the release of U-571," he says. "If we are supposed to be the accurate version of the Enigma story then it is good because now more people know something about Enigma. But this film exists not to put the record straight but to be a much more accurate and truthful account of what happened."
Apted is delighted that he managed to get Kate Winslet and Dougray Scott as his stars and is full of praise for the actors. "Kate is magnificent," he says. "I think she is going to be around for as long as she wants. She is a natural screen actress, whom I think will become an icon here. Already she has huge celebrity and power and a good body of work. She has a great attitude to what she does. She is remarkable. I got her because she was pregnant. I was lucky because she was going to do another film, Therese Raquin, but she couldn't do that because she would have been too pregnant. We had to move quickly and bring our shooting date up and film round her condition. It was a bit scary to have to move so quickly."
Apted admits that the casting of Dougray Scott as the villain in Mission Impossible 2 had been a crucial factor when they decided to go after him for Enigma. "I did not want an American actor coming in and trying a funny voice," he says. "It had to be a British actor and one with some muscle financially is hard to find. We could see that Dougray was on the cusp of that with M:I-2 and that made it attractive for us to go to him. He is terrific for the role. It was this added ingredient of him being on the verge of becoming a movie star that made him all the more appetizing to us. We could not go into this with an unknown cast."



From the August issue of Flicks magazine - Thanks Sylvia of Dougray Scott in Focus! Here's a capture of the page layout; the article is posted below it.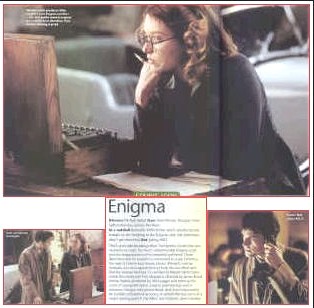 Caption, top pic:"Winslet with producer Mick Jagger's own Enigma machine -
the last public owned original was stolen from Bletchley Park before filming started."
Caption, bottom left pic: "Scott and Winslet investigate."
Caption, bottom right pic: "Scott: Hot after M:I-2."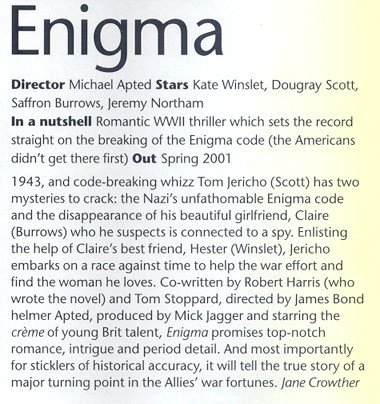 From Daily Variety, July 31: (Thanks, Tamara of Dougray Net!)
"Film Financers Reap Rewards of Going Dutch, By Dana Harris -
Looking for a cheap source of film financing that offers your investors a virtually guaranteed rate of return? Call your travel agent to book a flight on KLM and take advantage of Dutch tax-driven equity funds, the newest movie coin trend.
The Dutch tax shelters share an unusual bond with insurance-backed film financing, another instrument that had its moment of industry chic: Both were originally designed to finance ship building. Investors, however, are not high-flying insurance companies but private Dutch investors eager to fund films in order to offset tax liabilities. Already, the funds --- commonly known as CVs --- have developed an enviable track record. Cometstone Pictures' "The Little Vampire" --- which New Line Cinema acquired for domestic release and in a number of foreign territories --- was produced with the plan, as was Michael Apted's $ 24 million "Enigma," a Kate Winslet starrer produced by Intermedia with Lorne Michaels and Mick Jagger.
Most recently, international investment firm InnoCap financed four pictures under the Cine II CV, including the under-$ 10 million English-language thriller "Soul Assassin." Set in the Netherlands and repped by Winchester Films, "Soul" will be produced by San Fu Maltha and will be the helming debut of Lawrence Malkin.
Regent Entertainment also made a pit stop in Holland on the way back from the Cannes Intl. Film Festival to investigate the financial possibilities.
So far, there are plenty of Dutch citizens who are happy to oblige: Who wouldn't rather be an equity partner in a film company rather than bear a heavy tax burden? As a result, the CVs have helped underwrite a production boom in the Netherlands. "Our CV brings $ 25 million into the Dutch economy and its film industry," says "Enigma" producer and Mulholland Pictures partner Ata de Jong.
Of course, there are a few drawbacks: The controversy surrounding these tax-driven equity funds has become a well-established local cause celebre and new tax laws that will hit the books Jan. 1 make it likely that those who aren't already well on the way to building these tax shelters will be left out in the cold.
"Enigma" is one of three Mulholland titles in a current CV backed by MeesPierson Bank. The $ 14 million "The Discovery of Heaven" will be helmed by Jeroen Krabbe ("Left Luggage"), while de Jong ("Drop Dead Fred") will direct the $ 5 million "Fogbound."
The Dutch press, however, has taken a dim view of the CV's new and exalted role in independent film production. "Enigma" hit the front page of Holland's De Telegraaf on several occasions thanks to public outcry that while Dutch tax money backed the film, most of "Enigma" was shot outside the Netherlands.
De Jong admits that perhaps a quarter of "Enigma" was produced in Holland and, under Dutch tax law, 50% of the films produced with CV money must be spent in Holland. However, while "Enigma" was the financial backbone of the MeesPierson CV, de Jong says the CV qualifies thanks to the lower-budgeted "Heaven" and "Fogbound," both of which are slated as all-Dutch productions. "(Our Dutch investment) far exceeds any other CV," said de Jong. "The complaining is rather bizarre --- we are bringing in more money than the other films even cost."
In any case, he's hardly complaining. "I love the stories," de Jong said. "They are great publicity. We couldn't pick up the phone quickly enough to handle all the people who wanted to invest money in it."
Pending changes in Dutch tax law, however, will probably ensure that CVs won't be the next tulip craze. Films currently financed by CVs must wrap by the year's end to avoid a Jan. 1 tax restructuring that likely will reduce the profitability of future CV offerings.


De Jong reserves judgment on what the new system might mean for the CVs; for now, he's happy with what he's got. But that doesn't mean everybody else feels the same. "I've faced a lot of jealousy," says de Jong. "If our CV had been unsuccessful, I would have a lot of friends and been invited to a lot of dinner parties."



July 30: I found this item in the Los Angeles Times today. There are two new pics of Dougray on the set - they're posted in the gallery.
"Not Unlike a Rolling Stone" - By David Gritten
Used to calling the shots on tour, Mick Jagger is in charge again -- as producer of his first film, "Enigma." So, is he getting any satisfaction?
LONDON--On most movie sets, it's the star actors who are the center of attention, the ones toward whom all eyes discreetly turn when they walk onto the set. They're usually the subject of cast and crew gossip and speculation, of whispered conversations behind hands. It's rare to find a film where a producer is the focus of such intrigue. But then, it's rare to find a film producer who's also arguably the most charismatic rock star of the last four decades.
"Enigma," a thriller set in England during World War II, is such a film. One of its producers is Mick Jagger, whose company Jagged Films has nursed the project for more than three years; between (and often during) Rolling Stones world tours, Jagger has tenaciously kept "Enigma" alive through various financial and logistical setbacks. Street Fighting Man becomes Deal Making Man, you might say.
Though widely known as a shrewd business operator, Jagger has had plenty to say about the creative aspects of "Enigma" too. One Friday last month, he strode onto a sound stage at Elstree Studios, out in London's northwest suburbs, to check out how shooting was progressing. The film is directed by Michael Apted (whose last outing was the James Bond flick "The World Is Not Enough") and stars Dougray Scott ("M:I-2") and Kate Winslet. It was adapted from the Robert Harris novel by Tom Stoppard, one of Britain's most distinguished playwrights and an Oscar-winning screenwriter for "Shakespeare in Love."
"I like to visit the set once or twice a week, see what's going on," Jagger said. "You don't want to get in the way. It's a bit of a fine line. Though, of course, most of the work's been done before you start shooting."
All eyes, predictably, were on him. Even in his "civilian" capacity as producer rather than performer, Jagger engages the attention. He turned 57 this month, but looks far more lithe, trim and fit than any of his rock contemporaries: In a pink-checked dress shirt worn outside his black jeans, he wandered around the set, chatting affably with crew members, listening attentively and frequently flashing his broad trademark grin.
Clearly Jagged Films has the clout to advance its case in movies; who, after all, would not be intrigued by the prospect of taking a meeting with Mick Jagger? But does he have what it takes to establish himself as a producing entity in the long run? Apted believes he does. "He's pretty savvy because he's done a lot of movies as an actor," Apted said. "So he's not an innocent. . . . He's very supportive, and he hasn't tried to push his weight about. It's weird, because he's one of my heroes, he's my generation. You're working with him, then suddenly you have this flash and you think: 'Christ! It's Mick.' He and I are the same age. I started [as a documentary filmmaker] when the Beatles and Stones were starting out, so our careers are parallel. He's always been a hero, a legend, and now here he is."
It's a temptation to assume that for such a successful and hugely wealthy man, producing films might be a fleeting distraction, a pleasant way for a dilettante to pass time before adopting a new interest. "It's not," he said flatly. "It's a long-term commitment. We [he and his Jagged Films partner Victoria Pearman] have other films in development. We know other people might not want to make everything we want to make. But there will be other films. And I've already been around 'Enigma' for three or four years."
It was in 1996 that Jagger bought the rights to "Enigma." The book deals with a group of British mathematicians and military men attached during World War II to the Bletchley Park unit, 40 miles north of London, where they set about breaking complex codes used by German forces. The brilliant English code-breakers succeeded in infiltrating German intelligence, managed to track and predict enemy troop movements, and thus certainly shortened the war. (In the film "U-571" earlier this year, Americans were incorrectly credited with breaking the German code, which caused an uproar among the British.)
Using this real-life backdrop, Harris created a fictional story, centered on an outstanding young mathematician, Tom Jericho (Scott), who suffers a nervous breakdown at Bletchley Park, but after recuperating returns to help decode German U-boat submarine movements in the Atlantic, where they were poised to attack Allied vessels. While engaged on this crucial task, Jericho must solve another mystery: the disappearance from Bletchley Park of Claire (Saffron Burrows), a young employee with whom he has fallen in love. With the help of Hester (Winslet), a friend of Claire's, he uncovers the truth.
"It's a fascinating topic," Jagger said. "Bletchley Park was one of the last secrets to come out of the war, and it always interested me. It didn't enter anyone's consciousness until the end of the '70s. There had been books before, but no one took much notice. I'd read many of those books, but it wasn't until Robert Harris' that I thought it would make a good movie. The idea of breaking codes during wartime is intriguing to me. Bletchley Park was like a microcosm of the British class system. And the way it was kept secret for so long is fascinating. I knew some of the families of those women, and their sons and daughters would say to me," and here he dropped his voice to a whisper, " 'Mom used to work at Bletchley.' They were still secretive about it, even though after the war it wasn't really secret anymore. It's a great background for a drama. This is a classic triangular love story set against this wartime atmosphere, which makes the drama telescoped because of the emotions involved. They're so on edge."
Jagger wasn't alone in his enthusiasm for Harris' book; it turned out Lorne Michaels, producer of NBC's "Saturday Night Live" (and many "SNL"-offshoot movie projects), also wanted to adapt it for film. "Yeah, Lorne and I were bidding against each other," Jagger said. "We met in a lift going to Penny Marshall's birthday party, as one does, and I asked him: 'Are you bidding for the rights to this book?' He said 'Yes.' The next day I called him and said, 'So am I, why don't we just buy it together?' So we did, and after that it was quite easy. I went to see Tom Stoppard to ask him about writing the script. I looked on his bookshelves, and there was a whole shelf of Bletchley Park books he'd already read!" Jagger said with a laugh.
It was Stoppard who brought Jagger the Harris novel. "I was going to visit Mick on holiday, and he asked me to bring this new novel with me," Stoppard recalled on the set at Elstree. "I'd had a proof copy sent to me. So I took it with me. I assumed he just wanted to read it. I didn't realize he was shopping."
How does Stoppard rate Jagger the producer? "Very impressive, actually. One sees why the Rolling Stones have lasted and worked as an enterprise," he said, adding half-jokingly: "He has a regrettable executive streak, which I'm sure the artist in him tries to disown. But the fact is, he's got great executive intelligence and energy. And he's a bastard in a nice way. He wants things to happen when people say they'll happen. People think Mick's a passenger, or window-dressing. The opposite is the case. He's the one who comes to locations; he worries about somebody's costume."
Jagger, on his first film as producer, was urged by Apted and Pearman to confront the formidable Stoppard and ask him to rewrite a draft of his script. "There was a draft they didn't think was warm, dramatic or sexy enough or something," said Stoppard, amused at the recollection. "And they made Mick tell me. Don't quite know what went on there. But Mick was delegated to give me the news."
"Yeah, that was one of my jobs," Jagger said, with a sigh, when asked about the incident. "Michael used to send me in to Tom to ask about script changes. He was a bit shy about telling Tom it was crap." He giggled at the notion. "I had to do the dirty work. It was very nicely done, and Tom doesn't mind constructive criticism."
Clearly the difference of opinion caused no rift. "It's nice that he's got this serious second string to his bow," Stoppard said of Jagger.
Indeed he has, though he isn't alone among rock artists in venturing into film producing. In 1978, ex-Beatle George Harrison formed HandMade Films, which enjoyed successes (including Monty Python's "Life of Brian" and the cult comedy "Withnail & I") but collapsed when Harrison split acrimoniously from his business partner. Elton John has formed a production company called Rocket Pictures; its first film, "Women Talking Dirty," has already been shot in Britain. Michael Stipe of R.E.M. had a producer's credit on the British-made glam-rock movie "Velvet Goldmine" and last year's indie hit "Being John Malkovich."
Of them all, Jagger seems arguably the best equipped to produce, partly because film is already familiar to him. He has acted in such movies as "Performance" (1970), "Ned Kelly" (1970) and "Freejack" (1992). Then there's the hands-on role he adopts on the Rolling Stones' gigantic world tours. "I've always done a lot of production for Stones documentaries, and some of them were quite big," he said. "The Imax one was really big. I do a lot of work like that without really realizing that's what I'm doing--hiring people, firing them sometimes, getting money together, making sure it's distributed, advertised, promoted and so on. So I'd done that for a bit, and I thought, well, maybe I should be [producing films]."
His new career certainly didn't come about because he can't get no satisfaction as a Rolling Stone these days: "No, no. Somebody encouraged me in L.A. to do it, and I slowly got into the idea that I'd do it more seriously. And it can mean anything--producing films is meaningless. Managers of actors get to be producers just because their actors are in the film. But in this particular case, there's been quite a lot of work for me."
That's an understatement. "Enigma" was originally due to be a Paramount film, but after casting problems the studio dropped it, and Jagger had to look around for alternative financing. London-based sales company Intermedia put up some money, and Apted was hired as director, but then he landed the Bond movie, which meant production on "Enigma" was delayed 12 months. Last year, everything came together, with Apted finally available, German and Dutch money on the table as well as a plausible leading man in Scott, who played the villain in "M:I-2." The film has an estimated budget of $28 million.
"We've had to wait, change actors, look for money," Jagger said. "It's all pretty much par for the course, but that was my job, and there was no one else doing it at the time, just me and Victoria."
In that period, Jagger and Pearman had time to look around, acquire properties and develop other scripts. Now they are almost certain what their next one will be: "Map of Love," a biopic of Welsh poet Dylan Thomas, who became famous in the 1950s and wrote the legendary "Under Milk Wood." "It's ready. It's a very small movie," said Jagger. It is written by Welshman Chris Monger, who directed Hugh Grant in "The Englishman Who Went Up a Hill but Came Down a Mountain." "I was raised in Swansea, in South Wales," said Pearman. "Hence the Dylan Thomas film that we will make next. I've been wanting to do it for many years, and when I teamed up with Mick, I said, 'How about this?' and he said, 'Fantastic.' "
Pearman, who has worked at Universal, MCA TV, Warners, Island Alive and New Regency, moved from Britain to America 20 years ago and teamed with Jagger six years ago. Now, she said, the company has 10 projects in development. Two, unsurprisingly, are music-related. Pearman describes "Swap" as "a dark comedy, a story of a rock star who's disenchanted and swaps roles with one of his roadies." She calls "The Long Play" "a story of 30 years in the music business. It's about the machinations of hit-making." Jagger wrote its script with author Rich Cohen ("Tough Jews") and has taken the idea to Martin Scorsese. "We'd hope to do that after 'Map of Love,' " Pearman said, adding, "Mick and I have similar tastes. I think we're on the right track. We waited a long time to get 'Enigma' done. It's been a real labor of love."
The actors on "Enigma" seem impressed with Jagger. Scott recalled meeting Jagger for a talk before being offered the role. "I went there thinking, 'What's all this? Why is he so interested in making movies all of a sudden?' But he turned out to be very bright, very nice and we got on well."
Winslet also confessed doubts. "Part of me thought, 'What made him want to produce films?' But we all went to Bletchley Park [before shooting started], and Mick's really into it. He gave the actors CDs he'd personally made up of music from the period. As an actor, that's the kind of thing you'd go off and do yourself. He was brilliant. I was really surprised. Producers usually sort out money and make the decisions. They hardly ever have that kind of input."
Apted wants Jagger to play a major part in supervising the music for "Enigma" and even to compose some for the film. Jagger seems likely to take that challenge in stride too; he gives the impression of a man enjoying a new role in life. "There's obviously huge differences and similarities between film and the music business," he said. "In the music business, to some extent, you can do something instantly for very little money. You need half a million dollars to make an album, which is a lot, but it's not $30 million. For a big tour, you do need $30 million, so it's not so different. You need lots of lead time, all these heads of departments, a theme, ideas, and a lot of talent. But you have to get the best out of the talent and make sure they get on for a very long time." (There are no definite distribution plans yet for "Enigma." Intermedia hopes to show the film to bidders by the end of the year, aiming for a 2001 release.)
The skills needed to be a producer and to be the Stones' front man aren't so different, he thinks: "You need an eye for detail, you mustn't lose sight of the big picture you had originally, you mustn't compromise too much for money. You have to be patient with difficult money people. The talent can be difficult and fly off the handle."
But now he's on the other side from the talent. "Yes, but I don't fly off the handle. You have to be assertive about what you want, but I don't lose my temper with people. So I don't have that problem. I've found it's too much energy-expending, really."
Is it possible he might find film producing so engaging he would consider finally putting the Rolling Stones out to pasture? Jagger flashed his wide grin again. "No, I think we'll be touring the Stones again quite soon. I'm sure it will happen."


July 7: I found this great article about the film on This Is London:
"Brits Hit Back at Hollywood Lies," by Neil Norman
Enigma - Kate Winslet. Dir: Michael Apted.
Hollywood's hijacking of British wartime history is nothing new. According to the movies, Americans engineered escapes from Colditz, fought and died exclusively in the Normandy landings and, under the courageous leadership of Errol Flynn, won the war in Burma. However, U-571 - the recent Hollywood movie that showed Americans capturing the first vital Enigma encoding machine from a German U-boat in an action that was to change the course of the Second World War - was a gauntlet too far. The ensuing outcry claimed U-571 was American jingoistic fantasy showing profound disrespect for the real British heroes involved in the U-boat boardings. Hollywood's response was characteristically robust: if you Brits think you can do better, go ahead. The challenge was accepted and the man who picked up the gauntlet was Mick Jagger.
At 0300 hours last Thursday morning, Enigma, the film of Robert Harris's novel of wartime codebreakers, was officially wrapped. Unlike U-571, it is British in virtually every respect, from its stars - Kate Winslet, Dougray Scott and Saffron Burrows - to its executive producer, Jagger. While the film-makers are keen to divert attention from the notion that it is a riposte to yet another Hollywood travesty of historical fact, Enigma nonetheless arrives carrying credentials of far greater authenticity.
Though the romantic narrative is fiction, as in the novel, it is set within a framework of assiduously researched facts and personalities. One of Britain's best-kept secrets was the team of young men and women who worked against the clock to break the German U-boat codes in a collection of hastily-erected buildings in Bletchley Park - codenamed Station X. They remained the unsung heroes of the war until the last decade of the 20th century. Not even their children, who were able to grow up in a free democratic society as a direct result of their parents' actions, knew anything of their secret lives. Now the story has been told.
Aside from Harris's novel, a Channel 4 documentary entitled Station X, Hugh Whitemore's play Breaking The Code (which revealed the contribution made by leading codebreaker Alan Turing), and Hugh Sebag-Montefiore's book, Enigma: The Battle For The Code, have all explored the operation and its participants in extraordinary detail. It is the film, however, that is exciting most interest. Scripted by Sir Tom Stoppard and directed by Michael Apted, it is a wholesale reconstruction of the period and the technology that led to the all-important breaking of the Enigma code. And its genesis is almost as intriguing as any wartime tale of espionage and derring-do.
According to Victoria Pearman, Jagger's producing partner and cofounder of Jagged Films, the rock star read Harris's novel just before it was published and immediately set about acquiring the film rights which were owned at the time by Lorne Michaels, US television producer of Saturday Night Live. Michaels came on board and the team approached Paramount Pictures with a view to producing it in Hollywood. Jagger's old friend Sir Tom wrote the screenplay and the project was up and running, until Paramount shelved it indefinitely.
Pearman, Jagger and Michaels retrieved their script and the rights and brought it home to Britain where they took it to Intermedia, Guy East's London-based distribution and producing operation. "It was clear that Intermedia would do it, not as a big US studio picture, but would be more sympathetic to the material," said Pearman.
With Michael Apted signed to direct - though he had the James Bond film The World Is Not Enough to complete first - it was a go project. Casting commenced but an unforeseen complication arose.
Kate Winslet had originally been considered for the role of the young codebreaker Hester. She had been rejected because she was pregnant but suddenly she announced that she wanted to do one more film before having her baby. Unfortunately, Natasha Little had been signed to star as Hester. Miss Little was "uncast" and Miss Winslet took the role. It was a tough call but the producers acted as honourably as they could under the circumstances and Miss Little received her full fee of £300,000. The postscript to this is that while Hester is pregnant in the film, Miss Winslet herself was not pregnant "enough" and had to have extra padding.
The other stars of the film are not actors at all but the sets, designed by John Beard. His distinguished CV as art director and production designer includes associations with Martin Scorsese, Nic Roeg, Terry Gilliam and David Mamet. For Enigma, Beard recreated U-boats in a tank at Pinewood, the huts at Bletchley and the all-important "bombe room". This was the top-secret room where the huge decoding machines - the first primitive computers - worked night and day to reduce the random sequences of coded letters down to an identifiable pattern.
The Enigma machines resembled old fashioned typewriters with lights and were the key to cracking the codes used by the Germans. Jagger owns an original four-rotor Enigma encoding machine which he brought into Bletchley Park for repair and lent to the film for historical accuracy in constructing props.
This was just as well; about a month afterwards, an Enigma machine in Bletchley Park museum was stolen. An inveterate collector of militaria and wartime memorabilia, Jagger had acquired his machine at auction around two years ago and Dougray Scott uses it in the film. The original three-rotor encoding machines were capable of 150 million million combinations. The later four-rotor developed for U-boat use had, according to Sir Tom Stoppard's screenplay, "about 4,000 million billion starting positions." On completion of filming, the bombe machines and the prop Enigma machines will all be donated to Bletchley Park museum, where they will take pride of place in an exhibition designed to show the real story of wartime codebreaking.
Of all the actors, Dougray Scott spent most time researching the equipment in Bletchley Park. He told me this week that after five months he became so proficient that he could break codes as well as strip an Enigma machine and reassemble it with his eyes closed. "And I can do the Times crossword much quicker than I used to." There is little doubt that his role as principal villain in Mission: Impossible 2 will boost Enigma in which he plays university graduate Tom Jericho, who helps break the code with assistance from the Kate Winslet and Saffron Burrows characters.
Perhaps the most enthusiastic of all concerned is Jagger, who is in the unusual position of being able to develop a collecting hobby into a full-fledged feature film. His frequent appearances on the set have been low-key, but he did don an RAF officer's uniform as an extra in a crowd scene.
Hollywood's cavalier approach to matters of British history is well-documented and executives will be intrigued to see how successful a British film made for a fraction of the typical Hollywood budget (estimates for Enigma are $28million) will be in the international market. In the words of one US journalist following the "fantasy" of U-571: "The Brits strike back with the truth!"
You don't need a bombe machine to decode that sentiment.


From the Leicester Mercury, June 7: (Thanks, Tamara of Dougray Net!)
"Features: Cinema/Video" - Amrin Khan reports.
Hundreds of local people have been immortalised on the silver screen as extras in the Second World War epic, Enigma, currently being filmed at the Great Central Railway Stations in Loughborough and Quorn.
With a few strides I am back in the 1940s. Outside the Great Central Railway station, normal Loughborough, with its modern cars, mobile phones and internet links, continues largely unaware. But go down the station steps and a whole old world opens up.
1940's style milk bottles line up by the ticket office and wartime posters telling what to do if "the invader comes" adorn the panelled oak walls. There is a Morris 18 car parked in front of the station and a Leyland Premier bus down the road. It is like stepping back in time. People pass by in a time warp. We are transported to a bygone era when women looked like Betty Grable and men looked like Cary Grant.
I'm on the set of Enigma, a period drama based on the best-selling book by Robert Harris.
The scenes, which have been filmed at the station since early Monday, tell the story of hero Tom Jericho's bid to find a traitor who he thinks has boarded a train to Glasgow from Bletchley. Jericho is played by heartthrob Dougray Scott, who was on set for much of the shooting. The station has been transformed for the shoot, and there are around 110 crew members on location.
The film has two producers and four executive producers, including Mick Jagger - it's all very Hollywood.
Rumour was that Sense and Sensibility star Kate Winslet would be on set, but her scenes were filmed weeks earlier to accommodate her blossoming pregnancy.
However, those who were there include a cast of more than 200 extras from around the county who had been in make-up since 8am.
Alan Williams, a retired teacher from East Leake, is a station guard. "You'd think as extras you can turn up and do your scene, but we have to go through make-up, hairdressing and costumes when we get here. Every little detail has to be perfect," he said. The 62-year-old is overjoyed at being picked as an extra from around 1,300 hopefuls on the day. "It's very exciting being on a film set. It is an eye-opener in terms of what goes on behind the scenes. Everyone has been very nice. There is so much happening but the crew treat the extras the same way as they treat stars. It's quite tiring because you want to get going but you end up waiting around a lot."
"It's my first time doing anything like this," Edgar Martin tells me. The 70-year-old accountant from Loughborough has been selected for the part of a passenger boarding a train. He says: "It's such an experience, there are so many people running around, doing their bit, bringing everything together. It makes you appreciate what goes into making a big film like this."
Sharon Bell-Young, a mother-of-four from Whitwick, is playing the part of a woman clutching her shopping basket tightly as the hero runs by her to get onto the train. She is wearing a light green dress and has her hair in a 1940's style chignon. "This is such a novel experience for us all. We all failed to recognise ourselves when we looked in the mirror. We look like our mothers used to."
I leave the filming unit behind as the director shouts "Action!" and follow my nose to the catering area. There are two huge mobile catering kitchens. The blackboard displays the lunchtime menu. It reads like something from a top restaurant, boasting delicious delights such as Parma ham and melon or roast tomato soup followed by fillet of pork "forestiere" or tiger prawns with coconut milk and rice. For dessert you can indulge in death by chocolate or jam roly-poly.
Behind these mouth-watering creations is chef Eddie Anderson, who has dished up meals to some of the biggest names in Hollywood, including Tom Hanks and Steven Spielberg. "Tom Hanks was really nice and mingled with the crew. He was down to earth and very friendly," he divulges. During this one day of filming, hundreds of meals and thousands of cups of tea and coffee have been consumed.
Six scenes have been filmed and around two hours of film has been used, which will finally be edited down to two-and-a-half minutes in the finished film, which is due to be released in the spring of 2001.


From the Leicester Mercury, May 11: (Thanks, Tamara of Dougray Net!)
"Full steam ahead for blockbuster" -
The arrival of a major film company to shoot location scenes for Kate Winslet's latest film, Enigma, at the Loughborough -based Great Central Railway, will provide an immediate boost to the local economy. And it is likely to attract more visitors to spend money in the town.
As reported in yesterday's Leicester Mercury, Mick Jagger's new production company, Jagged Films, is the latest to choose the Loughborough location for a major multi-million pound feature film. The GCR itself will benefit by a significant five-figure sum for the hire of the line and the locos for four days' filming. But the film company will spend considerably more in and around the town.
The GCR's chief engineer, Mr Mike Callis, said: "There is no doubt that our popularity with film companies has helped to put Loughborough on the map, and has brought a great deal of extra revenue to the town by attracting more visitors who have seen it on the screen."
The founder-chairman of the Charnwood Tourism Association and former president of the Loughborough Chamber of Trade and Commerce Mr Martin Traynor, said: "This is good news for the GCR and the town as a whole. Whenever films are shot here, the town benefits in the short term from money spent during shooting which, in itself, is in excess of GBP 100,000. But although it is less easy to quantify, there is a definite on-going long-term benefit, because more people visit the town, having seen the film. It has been proved in the past, that the presence of film crews has provided a significant boost to local hotels, restaurants, shops and other suppliers."
Since the GCR was reopened as Britain's only preserved main line in 1973, it has provided the location scenes for numerous cinema and television films. They include The Secret Agent, Buster, starring Phil Collins, and Shadowlands, directed by Lord Attenborough and starring Sir Anthony Hopkins and Debra Winger, for which the Loughborough Great Central Station was transformed to replicate the Oxford Station in the Fifties.
Major television productions include Goodnight Mr. Tom, which starred John Thaw.


From the Leicester Mercury, May 10: (Thanks, Tamara of Dougray Net!)
"Kate To Star At The GCR" -
Kate Winslet, star of the blockbuster film Titanic, will be riding on the Great Central Railway at Loughborough and Quorn next month. A new film company, Jagged Films, formed by Rolling Stone Mick Jagger, has chosen the GCR to shoot location scenes for the film Enigma. The movie is based on Robert Harris' best -selling novel about the Second World War code-breakers at Britain's top secret Station X.
This will be the star actress's last film before she takes a break to have her baby in September.
The film crew and a star-studded cast, plus 100 extras, will film on the preserved main line from Monday to Thursday, June 5 to 8.
The GCR's deputy chairman, John East, said: "We are delighted that the GCR has been chosen, and the contract with the film company will result in a major contribution to the local economy."
Oscar-winning playwright Tom Stoppard has adapted the book for the film, which will be directed by Michael Apted and will also star Dougray Scott, soon to be seen playing opposite Tom Cruise in Mission Impossible 2.
Before the film crew takes over the line, the GCR will celebrate the completion of a 10-year GBP 1.2 million project that will make it the world's only double-track main line steam railway. This will provide a further boost to one of the county's biggest tourist attractions. The double track will be opened on Thursday, June 1 by GCR president David Clarke, who came up with the idea and made a significant contribution towards its cost. The double track will be operational along a five-and-a-half mile stretch between Loughborough and Rothley stations and it is hoped to extend it to Birstall.
The preserved line, original stations, restored steam locos and rolling stock have proved a popular location for film-makers. Scenes from Lord Attenborough's GBP 30 million feature film, Shadowlands, starring Sir Anthony Hopkins, were shot there. Most recently, director Jack Gold shot a major TV drama, Goodnight Mister Tom, starring John Thaw.


I found the following Press Release on the Intermedia site:
Production Starts on Enigma -
London, 18 April, 2000 - Shooting began in England this week on Intermedia's Enigma starring Dougray Scott, Kate Winslet, Jeremy Northam and Saffron Burrows. A romantic thriller based on the international best-selling novel by Robert Harris, Enigma is to be directed by Michael Apted and produced by Mick Jagger's Jagged Films and Lorne Michaels' Broadway Films.
Adapted for the screen by Tom Stoppard, Enigma is produced by Mick Jagger and Lorne Michaels. Executive producers are Intermedia's Guy East and Nigel Sinclair, Senator Films' Hanno Huth, and Victoria Pearman and Michael White. David Brown is co-producer. German-based Senator Films, one of Germany's leading independent distribution and production companies, has acquired all rights for continental Europe and participates from worldwide gross receipts.
Steeped in the atmosphere of wartime England, this mystery of codes and code breaking, love and betrayal set inside the birthplace of the computer age, has much contemporary relevance in today's world of the Internet and computer hackers.
In March 1943, the code breakers at Bletchley Park, Britain's top secret Station X, are facing their worst nightmare: Nazi U-boats have unexpectedly changed their Enigma code and a merchant shipping convoy with 10,000 people on board is in peril. The authorities turn for help to Tom Jericho (Dougray Scott), a brilliant young mathematician and code breaker.
Unknown to his colleagues, Jericho has another equally baffling enigma of his own to unravel: Claire (Saffron Burrows), the woman he loves has disappeared and he suspects there may be a spy in Bletchley. To get to the bottom of both mysteries, he enlists the help of Hester (Kate Winslet), Claire's best friend.
Director Michael Apted (The World Is Not Enough) has assembled a star cast headed by rising star Dougray Scott (soon be seen in Mission Impossible Two, starring opposite Tom Cruise) and Kate Winslet, Academy Award nominated star of the worldwide blockbuster Titanic. Jeremy Northam won this year's London Evening Standard Film Award for Best Actor for his performances in The Winslow Boy and An Ideal Husband. Saffron Burrows' recent screen appearances include Renny Harlin's action film Deep Blue Sea.
Award winning playwright Tom Stoppard last year won the Academy Award for best screenplay for his script of Shakespeare in Love.
Supporting cast includes Corin Redgrave (Four Weddings and a Funeral) and Tom Hollander (Martha, Meet Frank, Daniel and Laurence).
Robert Harris's Enigma was first published in the UK in 1995, with the paperback edition remaining in the Top Ten Bestseller List for fifteen weeks. To date the novel has sold over one million copies internationally and has been published in translation in 23 countries around the world.
Enigma is the first film to go before the cameras from Jagged Films, the company formed by Mick Jagger and Victoria Pearman in 1995. Future productions include The Map of Love, the dramatic love story of Dylan Thomas and his wife Caitlin, and The Long Play, written by Jagger, Rich Cohen and Martin Scorsese, with Scorsese set to direct this insider's look at the music business and the Machiavellian world of hit-making.
Lorne Michaels is the creator and executive producer of the legendary Saturday Night Live. Among his film producer credits are Wayne's World, Tommy Boy and the forthcoming Ladies Man.
Intermedia is a diversified entertainment investment company with offices in London, Los Angeles and Munich, which develops, finances and distributes motion pictures in collaboration with leading producing partners. Its films include Sliding Doors, The Land Girls, Hilary and Jackie, Playing By Heart, Sweet and Lowdown, Whatever Happened to Harold Smith? Love's Labour's Lost, Up at the Villa and Where The Money Is as well as such forthcoming titles as Where The Heart Is, Company Man, Blow Dry, The Wedding Planner and Therese Raquin.


From The Scotsman, February 26: (Thanks, Tamara of Dougray Net!)
"WANTED: LONELY COTTAGE BY LOCH. FOR BATTLE BETWEEN U-BOAT AND RAF. CONTACT MICK JAGGER
BYLINE: Brian Pendreigh
Code-breaking experts and naval cipher machines do not usually send publishers and film-makers scurrying for their cheque books. But Robert Harris had already been responsible for a worldwide best-seller with Fatherland, inspired by the premise of Hitler having won the Second World War, so if anyone could make ciphers exciting, it was the former Panorama reporter.
Harris took the arcane world of Bletchley Park, the wartime code-breaking centre in Buckinghamshire, and transformed it into a gripping thriller. His title, Enigma, came from the name of the German cipher machines. Mick Jagger, the rock star turned film producer, was so impressed that he and his partners paid a reported GBP 430,000 in a bidding war for the screen rights.
But there was a problem. Harris's story was exciting but decidedly uncinematic. The original novel climaxed with a shoot-out between hero and villain outside, of all places, Northampton (would Alfred Hitchcock's The 39 Steps have acquired classic status if Richard Hannay had jumped off The Flying Scotsman at Northampton rather than the Forth Bridge?).
So Jagger hired the Oscar-winning playwright Tom Stoppard to spice up the action. Stoppard immediately relocated the story's climax to a remote cottage somewhere on the coast of Scotland, and turned the shoot-out into a duel between a U-boat and the Royal Air Force. For the last few weeks Jagger's team has been scouring Argyllshire for suitable locations, with shooting scheduled to begin in April.
News that one of the biggest productions in the UK this year will be partially made in Scotland will provide a further boost to the national film industry. It follows last year's record-breaking year, when 15 major films, including Robert Duvall's The Cup, were made north of the border.
The popularity of recent films such as Braveheart, Trainspotting and Shallow Grave, as well as the current batch of talented home-grown actors, including Ewan McGregor and Robert Carlyle, have made Scotland enormously fashionable within the film industry. But there has been an even more fundamental improvement in the fortunes of local film-makers. In the past, major English and American film producers have merely chosen to film in Scotland for its beautiful locations - now they are preferring to involve Scottish producers, directors and writers too.
The most encouraging statistic from last year was not the total number of films made, but the fact that half had Scottish-based producers. This year looks no different, so why the surge in activity? Scottish Screen chief executive John Archer believes Scotland's rise through the film world ranks is down to the success of the short-film schemes, the money invested in scripts, and the efforts to actively sell Scotland as a location rather than waiting for film-makers to come. But he maintains that the best advert for Scotland is its films, and believes success breeds success. "The best thing is having some decent films out there," he says.
One of the men credited with encouraging this shift is David Brown. Based in Glasgow, he is a joint producer of Enigma with Mick Jagger, and staff at Enigma's production office at London's Elstree Studios have confirmed that he was instrumental in shifting the story north. Brown, who started his career in films 20 years ago as a dogsbody on Bill Forsyth's Gregory's Girl and was most recently the production supervisor on Star Wars, The Phantom Menace, is an increasingly influential figure who has made no secret of his intention to make more films in this country.
Of last year's films, Creatures, which has been described as a Scottish Thelma and Louise, was a collaboration between London-based Andrew Macdonald's DNA Films and local producers Willy Wands and Simon Donald.
John McGrath made Aberdeen with Breaking the Waves star Stellan Skarsgard; Bob Last, who recorded and managed some of the top pop groups of the 1980s, was executive producer on The House of Mirth; and Jim Hickey, the former Edinburgh Film Festival director, produced his first feature, Daybreak. All three have offices in Edinburgh.
So too does Eddie Dick. As director of the Scottish Film Production Fund, he was once responsible for handing out grants to aspiring producers. Two years ago he joined their ranks, setting up Makar Productions in George Street. It is an impressive address, but inside the stairs narrow from elegant, spacious spiral to claustrophobic right-angles as they approach Dick's garret.
Scripts and videos are piled in tidy stacks. The 50-year-old former English teacher is working on nine different projects at present, but still has to get one before the cameras. He was never under any illusions that it would be easy. "Experienced people said: 'What you have to realise is it will take at least two years to get yourself established'. And they were right." He secured the backing of British Screen, Miramax and Channel 4 for individual projects and raised other money through private investors. "I was too long in the tooth just to walk off the end of a plank into the dark," he says.
There was a change in management at Channel 4 and Miramax, and suddenly those three initial projects were down to one - it is this film Dick hopes to shoot in Scotland later this year. Dick describes A Child of Air as: "A kind of love story, a kind of ghost story." He has one of Scotland's most promising young directors lined up: Pat Harkins was prop man on Shallow Grave, made the short The Last Ten Minutes with Shallow Grave writer John Hodge and is likely to make his feature debut with another Hodge project before A Child of Air.
Dick is up and down to London every other week. It might seem easier to move there but, he says: "A lot of people get lost in Soho. I'm talking about the tremendous temptation to disappear up a number of dark orifices."
It has been a long, hard slog, and yet Dick is viewed as one of Scottish cinema's better bets. And if he gets A Child of Air into production this year, it will put him well ahead of Jim Hickey, who took six years to get his first feature film made. Daybreak was a debut not just for Hickey, but also for FilmFour Lab, the company's new "cutting-edge", low-budget arm. Last month FilmFour Lab appointed a "new-talent" scout, based in Scotland. Nic Murison sounds a little like Captain Kirk when she says her job is "to seek out the most exciting new cinematic voices in Britain and Ireland." She will liaise with film schools, watch videos and develop long-term relationships with the star writers, directors and producers of tomorrow.
Murison is based in Scotland, where FilmFour has become an increasingly significant presence. A 29-year-old Aberdonian, she comes from a short-film background and readily admits she is more familiar with the scene in Scotland than elsewhere. She provides her take on the local industry over coffee in a cafA-bar in Edinburgh's Stockbridge, where she lives and where she once worked at the Theatre Workshop. "There was a point where Scotland was more of a focus in terms of using the craft talent base that was here and the locations and landscape that were here," she says. "But what is starting to happen now, more and more, is that we also have film-makers who are based in Scotland starting to make indigenous work here, like Peter Mullan."
Dozens of producers, in Scotland and elsewhere, have Scottish projects at various stages of development. One of the biggest is Mary Queen of Scots, developed by an Edinburgh production company with a Jimmy McGovern script and BBC money. One of the first in the coming "season" is likely to be Donald MacNeep Has Lost His Sheep, a comedy with Maurice Roeves and Paul Sorvino, from Goodfellas, as warring farmers. It is produced by Glasgow-based Alex McCall and will shoot in Scotland and Crete.
Douglas Rae, the man behind the phenomenal success of Mrs Brown, is another Scottish producer based in London. His new TV drama series, Monarch of the Glen, starts tomorrow and he hopes to be back in Scotland later this year for Charlotte Gray, an adaptation of Sebastian Faulks's novel, with Cate Blanchett as the Scotswoman who joins the French Resistance, and The Water Horse, a big -budget fantasy which Rae is fond of describing as "ET in the Highlands".
Mick Jagger is not the only pop star turned producer to choose Scotland. Elton John made his first film in Scotland last year - Women Talking Dirty - and now he is adapting AL Kennedy's So I Am Glad, to be filmed here too.
Even Bollywood is coming to Scotland. In the past we have played host to several Indian productions, including the hit Kuch Kuch Hota Hai, which featured spectacular song-and-dance routines set against the dramatic backdrop of Glencoe and Eilean Donan Castle. Scotland was one of a number of international stopovers for Kuch Kuch, but an English-based producer and Hollywood director are planning to shoot a big-budget Bollywood film entirely in Scotland this summer.
The missing piece in this jigsaw is a purpose-built studio that can house feature films, though there has been no shortage of proposals, including one involving Sean Connery, David Murray and Sony Pictures. Murray has challenged the official Green Belt designation of their chosen site in west Edinburgh, although otherwise there has been little sign of progress in the past 15 months. Scottish Screen chairman James Lee was involved in talks with Sony and Connery, but lately Archer has been stressing Scottish Screen's support for Glasgow Development Agency's Pacific Quay proposals.
James Cosmo, one of Mel Gibson's lieutenants in Braveheart, is involved in proposals for a studio in Inverness. His partner Rick Wood says: "We've got the money and it's going ahead." But - and this is a big but - they have still to decide exactly where to build. There is an even more ambitious scheme for a studio at Gleneagles, but details are vague. "We are supportive of anybody who has got studio plans," says Archer. "But Pacific Quay is the one we think has the best chance." But it needs political will and taxpayers' money, and Scottish Screen is waiting to hear whether the Scottish executive will put up the required GBP 6 million.
George Carlaw, who runs Edinburgh's film office, insists work would now be starting on a studio at Nine Mile Burn, near Edinburgh, if it were not for Scottish Screen. The scheme had secured a GBP 740,000 grant from the European Regional Development Fund and needed GBP 2 million from the Scottish Arts Council Lottery coffers to complete the funding. "They said they would quite want to support the project," says Carlaw. "The capital committee said they would want to see support for the project, in some form, from Scottish Screen. But at the end of the day, they weren't prepared to lend the project any support and so the Arts Council wouldn't give us any money."
Arts Council chairman Magnus Linklater says it would be wrong to assume official backing would have guaranteed the grant, but adds: "If it had the backing of Scottish Screen then we certainly would have given it favourable consideration." The offer of European money expired at the end of the year and Carlaw describes the plans as being "on life-support".
Archer and the Cool Hand Lukes at Scottish Screen are gambling everything on the Scottish executive coming up with the money for Pacific Quay. If it proves a losing gamble, the Scottish film industry may be confined to its garret for a while longer.


From The Daily Telegraph, November 20, 1999: (Thanks, Tamara of Dougray Net!)
"News Review: Jagger Appears to Have Cracked the Enigma Film Code," By Nigel Reynolds -
Four very long years after Mick Jagger and a couple of friends paid pounds 400,000 for the film rights to Robert Harris's thriller Enigma, set among the Second World War code-breaking fraternity at Bletchley Park, the chances of the film being made have moved a step closer.
The hot man of the moment, Michael Apted, the British director who somehow managed to hold a crew of 650 together to make the latest James Bond film, The World Is Not Enough, has come on board and agreed to direct Enigma. And though he is wanted for the next 007 adventure, Apted, I gather, wants to make Enigma first.
Jagger made a proud boast three years ago that he wanted to become Britain's most powerful film tycoon: he would churn out 13 films to the value of pounds 200 million over the following five years.
So far, there has been little evidence of his revolution, but Enigma is at last moving along nicely. Jagger, with West End impresario Michael White and comedy king Lorne Michaels are backed by Paramount and, I gather, the last tranche making up the pounds 12.6 million budget is now in place. With Apted, Tom Stoppard has re-worked the script which has now gone out to various actors' agents. Harris says: "The script is absolutely brilliant. I can honestly say I'd be proud to have my book associated with it."
That is fair praise from the novelist. Fatherland, another of his blockbusters, was filmed in America with Miranda Richardson, it was something of a turkey and Harris has never made secret of his disappointment. Harris, like many a British author, is no particular admirer of the slow pace of Hollywood. Mel Gibson bought the rights to another of his novels, Archangel, more than a year ago and Harris has heard no more since. "I have learned over the past seven years how slowly things go but Enigma is looking as if it's going to be made," says Harris.
The novel is set over a one-week period in March 1943 at the height of the Battle of the Atlantic when the Bletchley code-breakers suddenly find, with two big convoys setting out, that they have been outwitted and can no longer crack the U-boat codes. A glamorous young code-breaker also goes missing and two colleagues must find her.
Jagger, Harris, Stoppard and White descended unannounced on Bletchley Park - now a museum - one day three years ago. They threw the place into turmoil and when they went off to the local pub, for lunch, the publican almost had a heart attack when Jagger asked for a pint and a pie.